A modern estate in the hills of Bel Air, centered on a large family room and pool terrace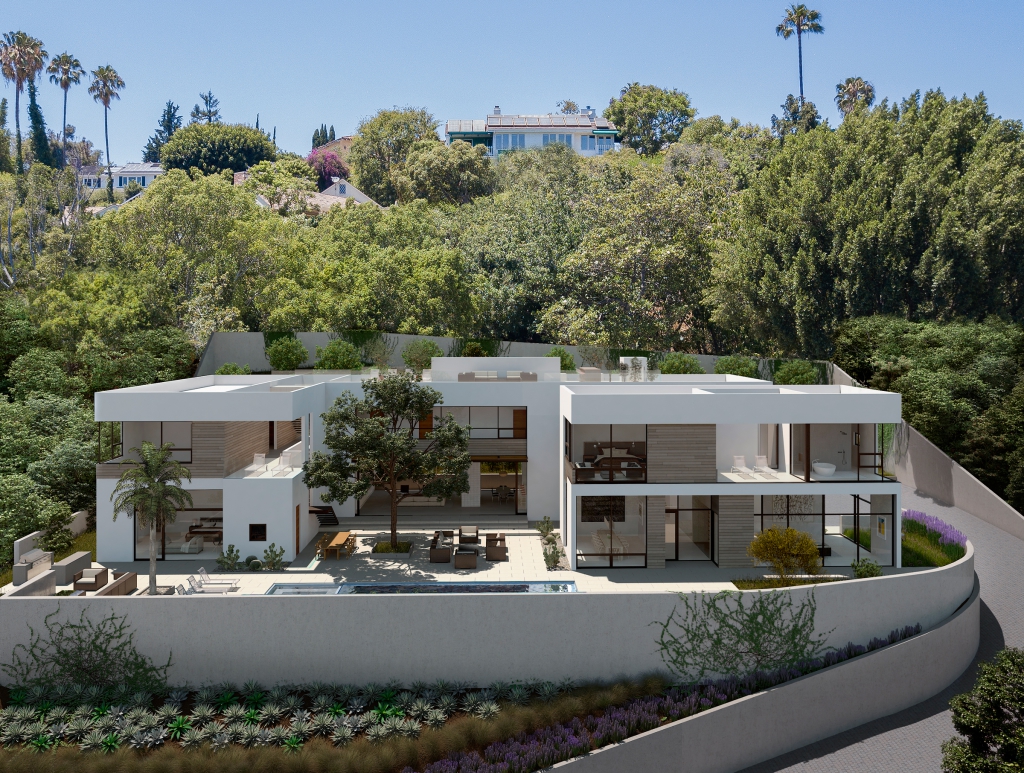 Los Angeles Modern Living
This 12,000sf, seven bedroom house is a modern estate tempered by the warmth of wood, stone, and gardens. The house is designed to open up to the pool terrace as well as the views. The massing of the house creates different areas (private, public, service, etc.) and masks the overall size.  Crisp white walls are offset by wood siding and stone terraces, as well as a pool.  There are many decks and terraces on the second floor as well as the roof.
The entry court
The entrance to the house is a transparent gap between two wings of the house. To the left is the formal living area on the ground floor and the master bedroom above. To the right are the master closets over a three car garage.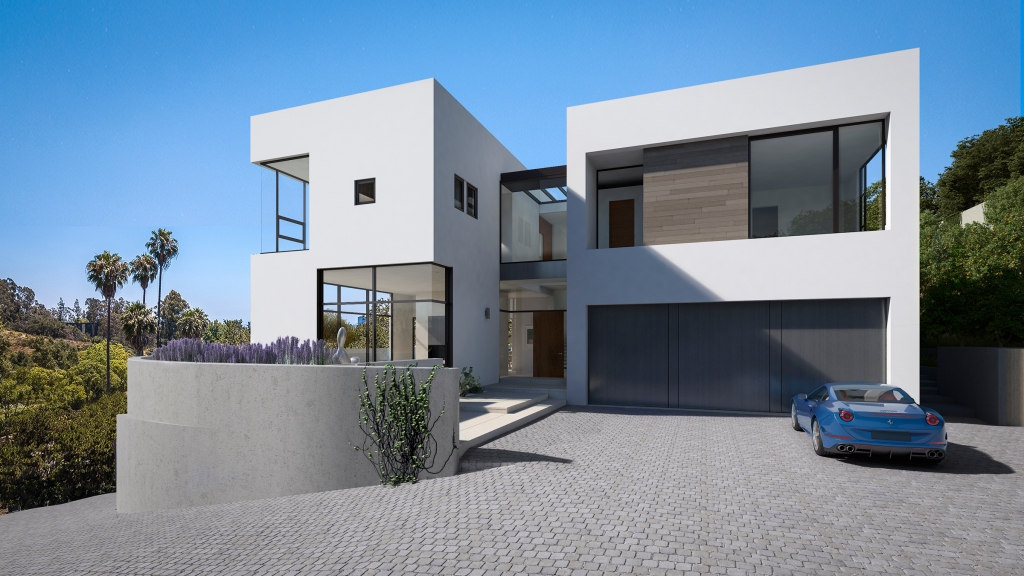 The formal living room
For more formal gatherings, unlike the family room, the fireplace anchors the space. The wood and glass stairs can be seen to the right. Large glass wall and doors to the left open to the deck and frame the view to the city beyond
The kitchen and informal dining area
An open kitchen and dining area are on one side of a fire place. They are one half of the large family area which has full height glass pocket doors so the room can connect directly to the pool terrace.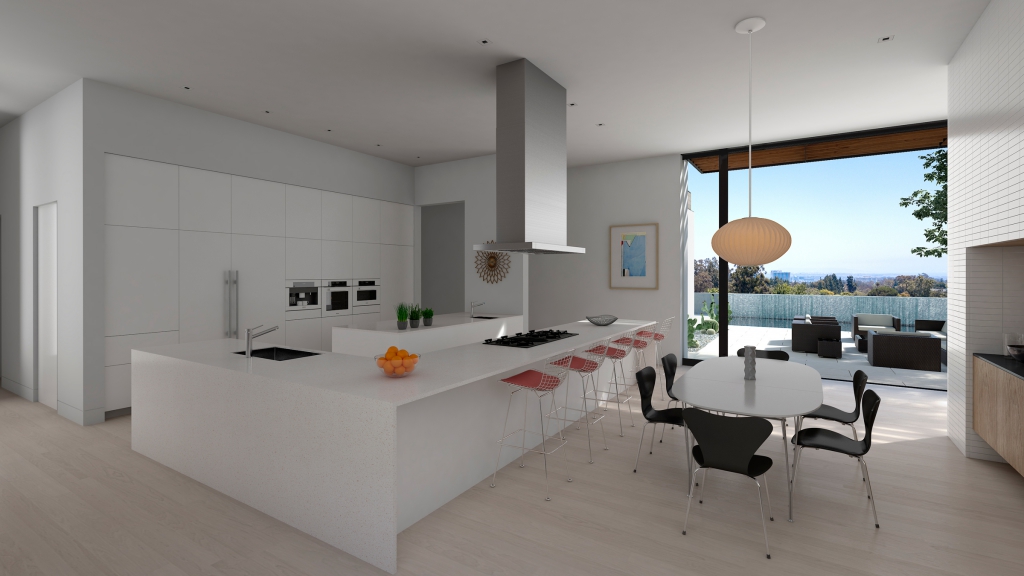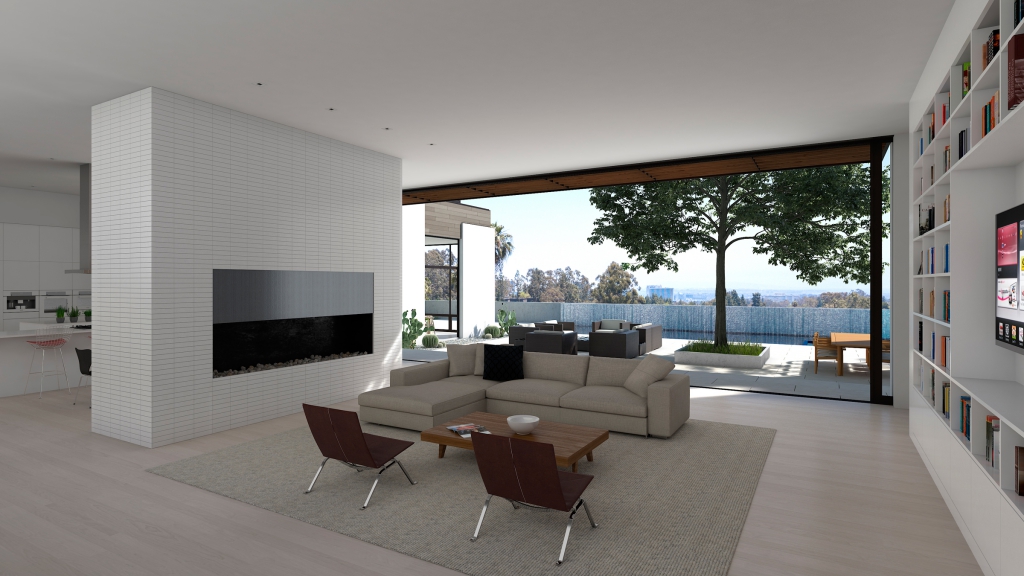 The family room area, anchored by a fireplace.
The fireplace of white brick wall divides this space from the kitchen and dining area. This family room also opens up directly to the pool terrace. A wood awning can be seen over the opening, providing needed screening of the afternoon sun.
View from the master bedroom corner window, toward the pool
On the second floor, the east wing is entirely comprised of the master suite: bedroom, sitting area, deck, bathroom, closet, and private office. A corner window overlooks the pool terrace below.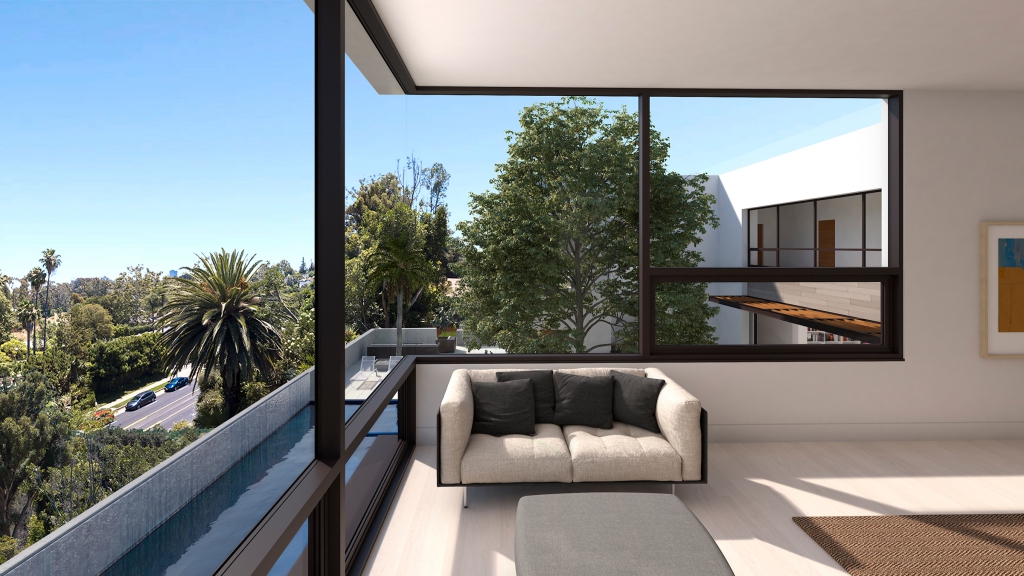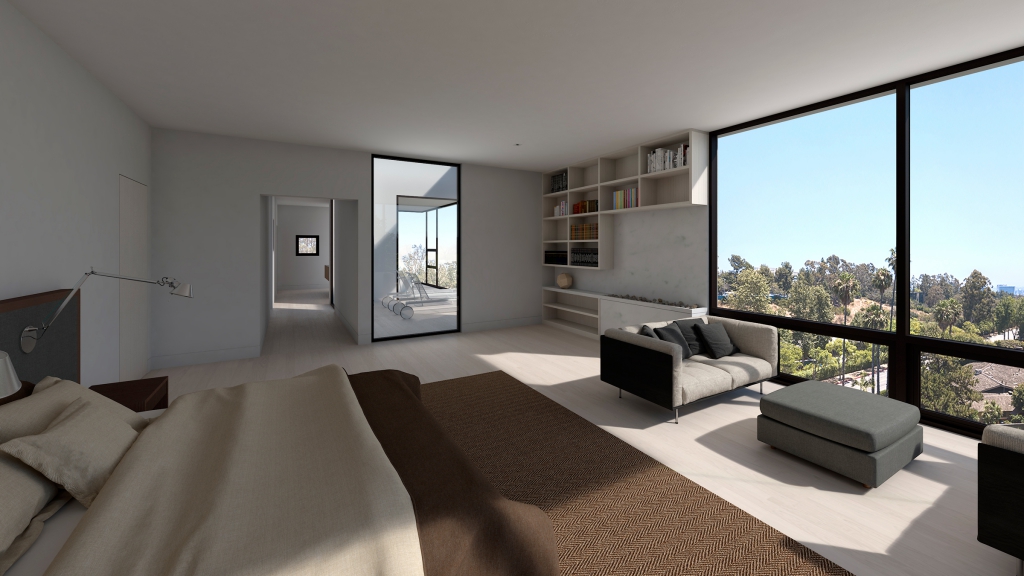 View in the master bedroom toward the master terrace and the bathroom beyond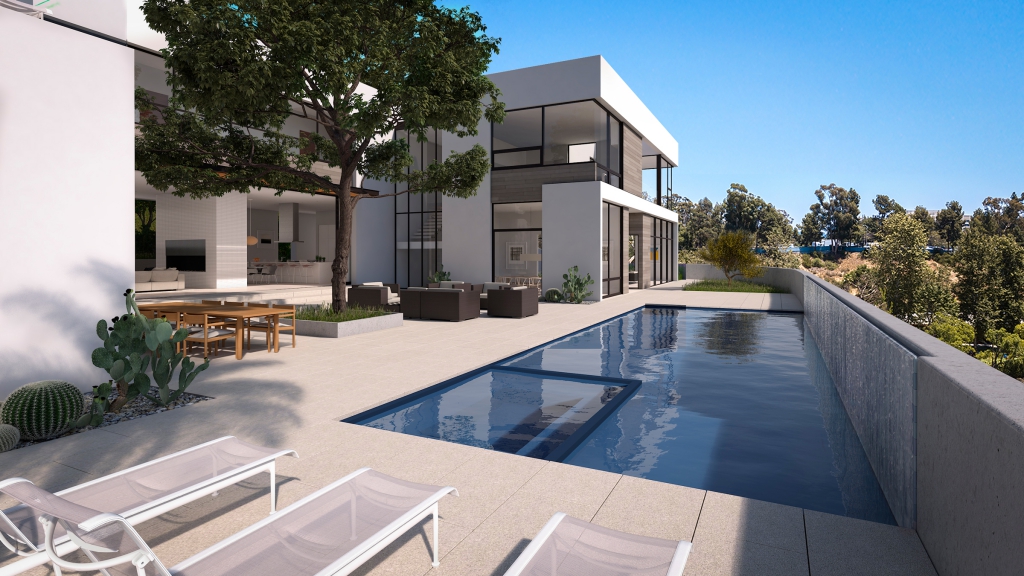 Poolside living
The pool terrace connects to the family room and kitchen though the large sliding glass pocket doors. A large tree provides a natural anchor to the space, as well as shade ruins g the afternoon.  On the far (east) wing, the formal dining room is visible below the master suite above. There is a composition of white wall, wood panel, and dark metal windows.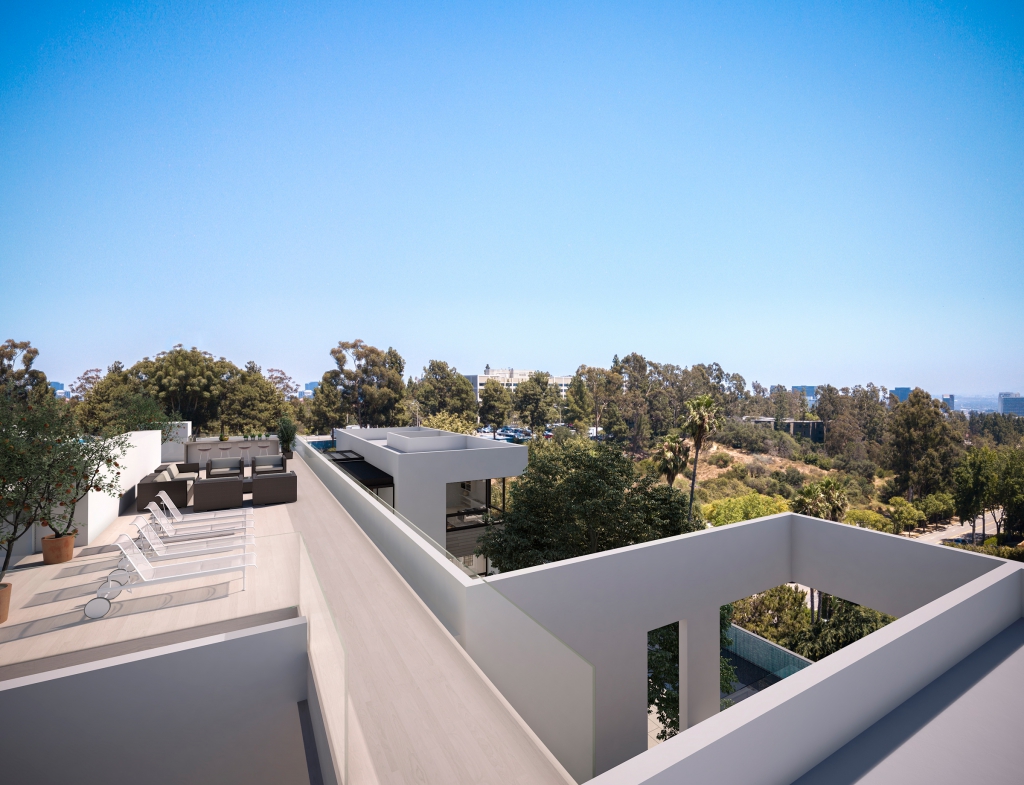 Rooftop terrace
A large terrace on the roof for entertaining and relaxing with a view
Entertaining with a view
A bar anchors the entertaining space on the rooftop terrace. The space celebrates views of the city and ocean beyond.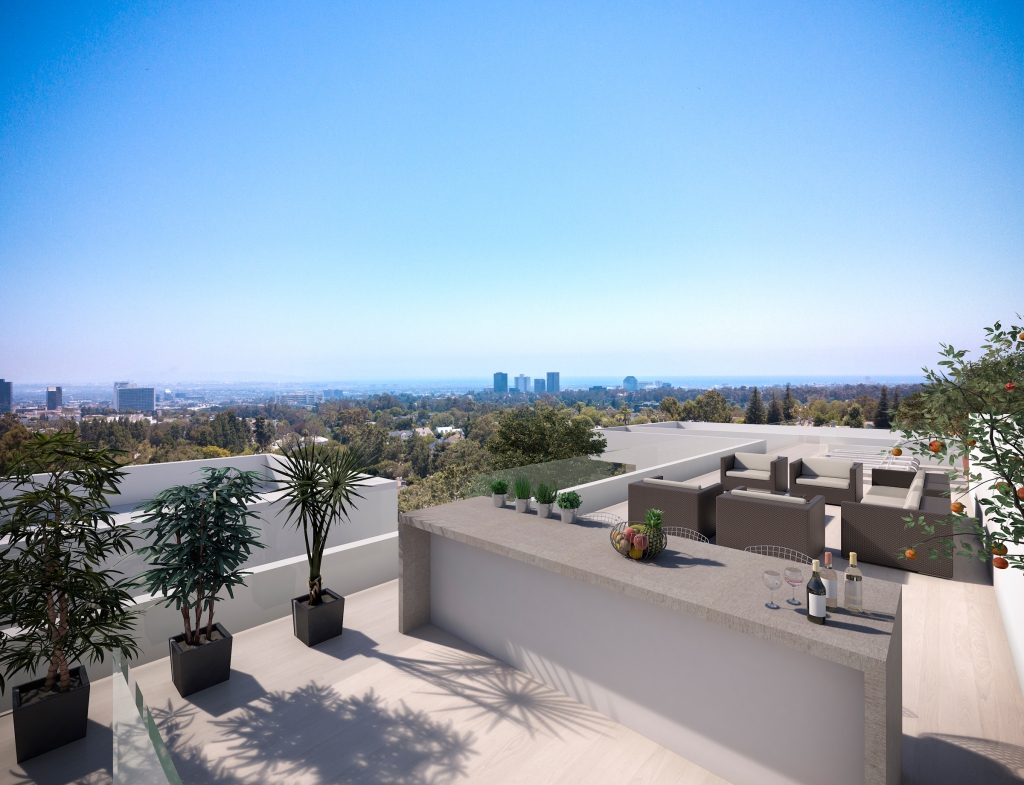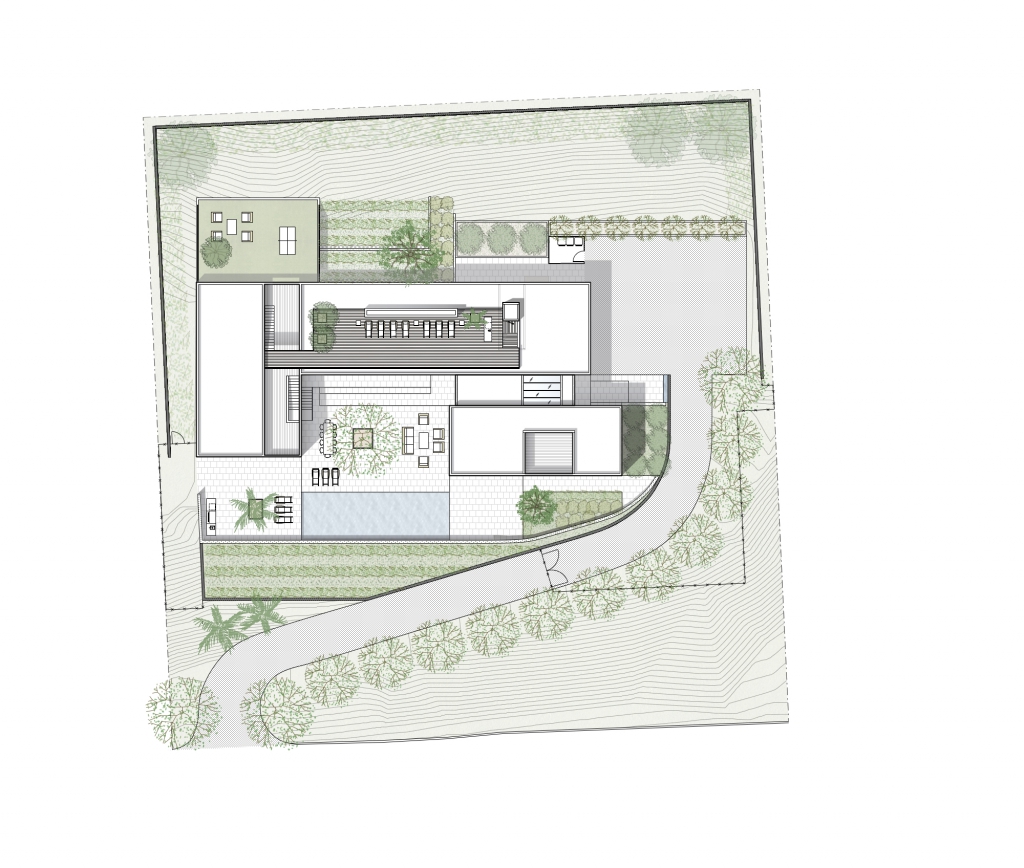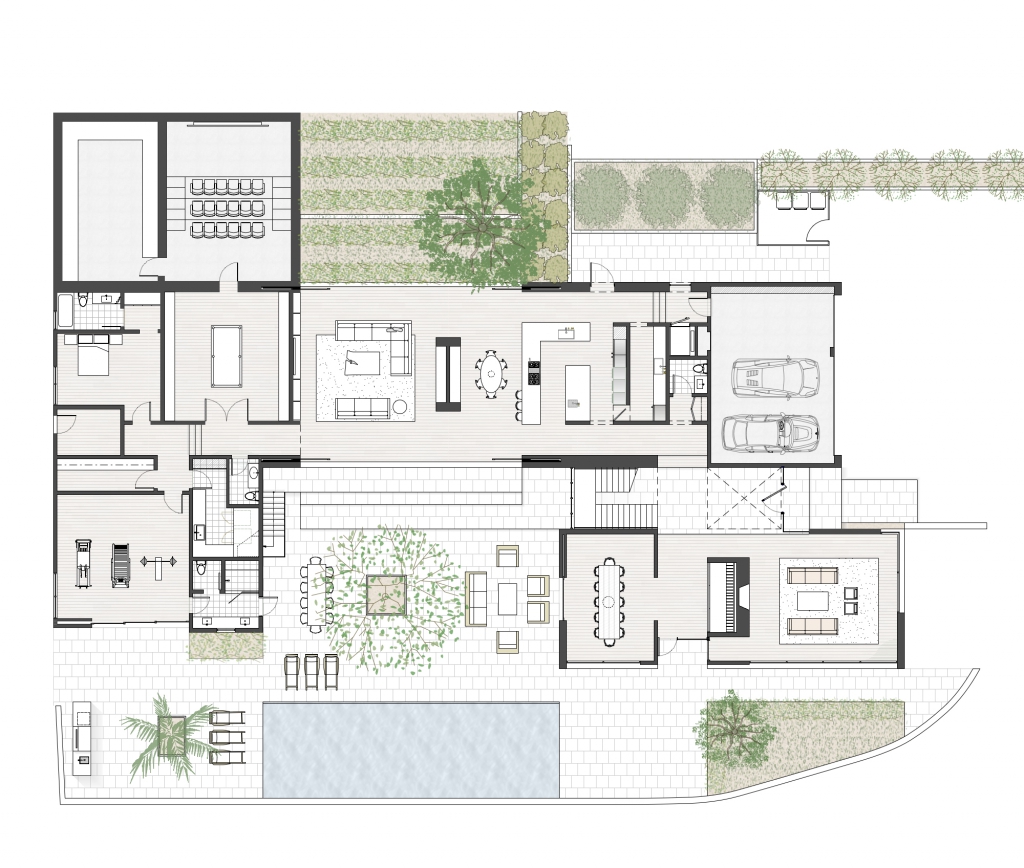 Ground Floor Plan
3 car garage, living room, dining room, wine room, powder room, kitchen and pantry, family dining area, family living area, screening room, gym, billiard room/ library, maid's room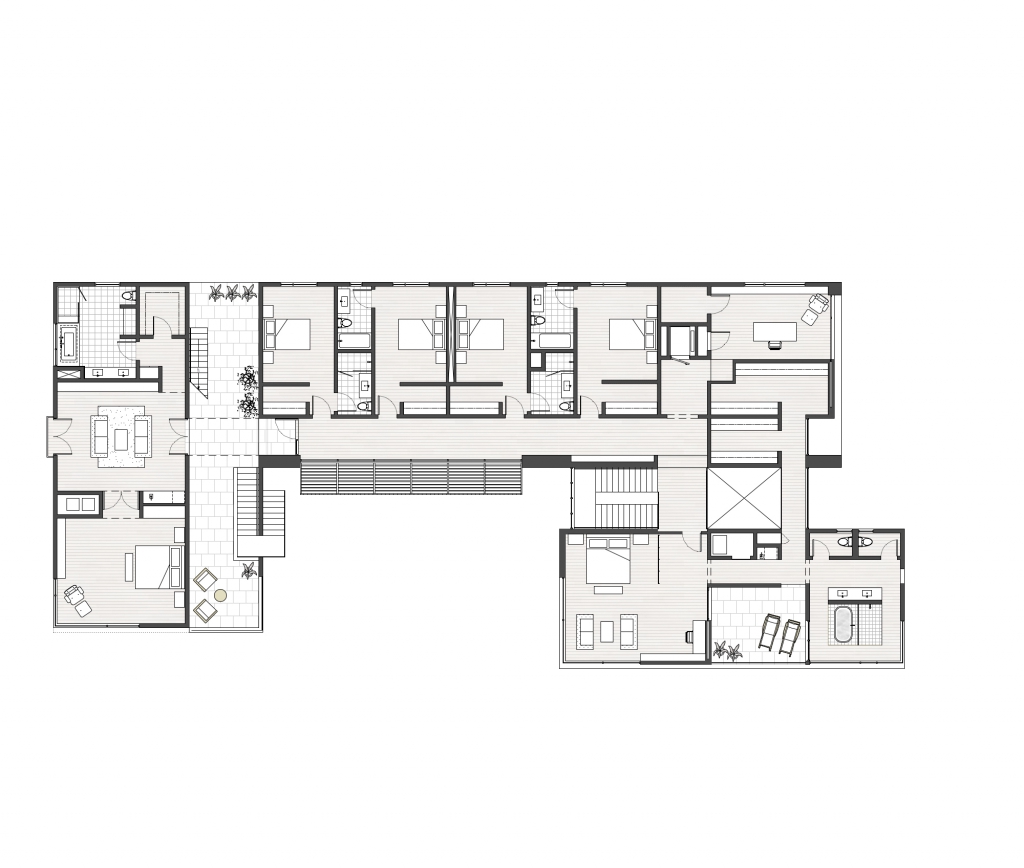 Second Story Plan:
4 bedrooms, guest bedroom suite, master bedroom suite, office, terrace