Thank You
Your contact infomation has been sent
we will be in touch shortly
×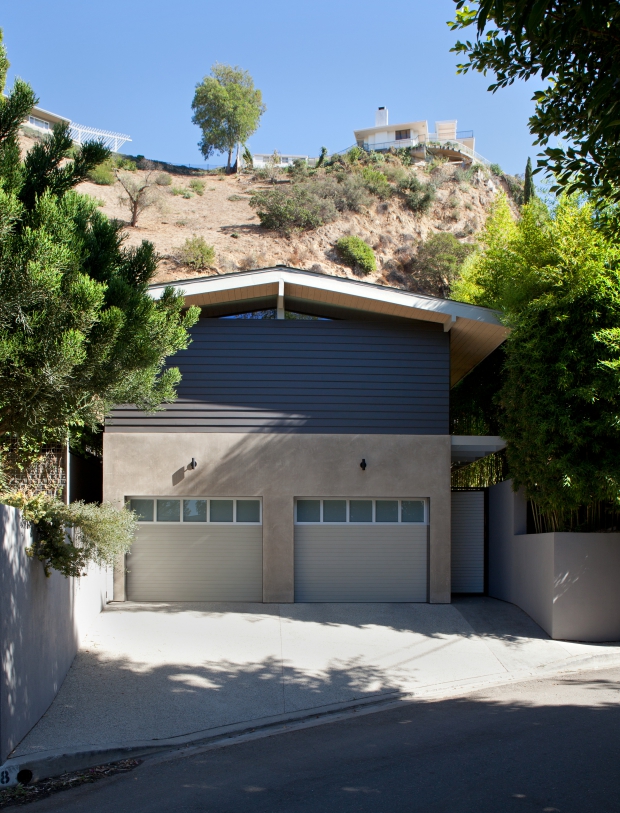 Front elevation of our renovation of a mid-century post-and-beam house in Beverly Hills.  We added a cement plaster base with siding above, and created two new triangular clerestory windows on either side of the ridge beam. A secure gate to the right acts as the front door, leading to a front garden.  (all photos by Undine Prohl)
View from the entry stairs. The front entry was designed as a steel/glass wall so the garden and house flow together. A new polished seeded concrete deck and steps supports the mid-century origins of the house.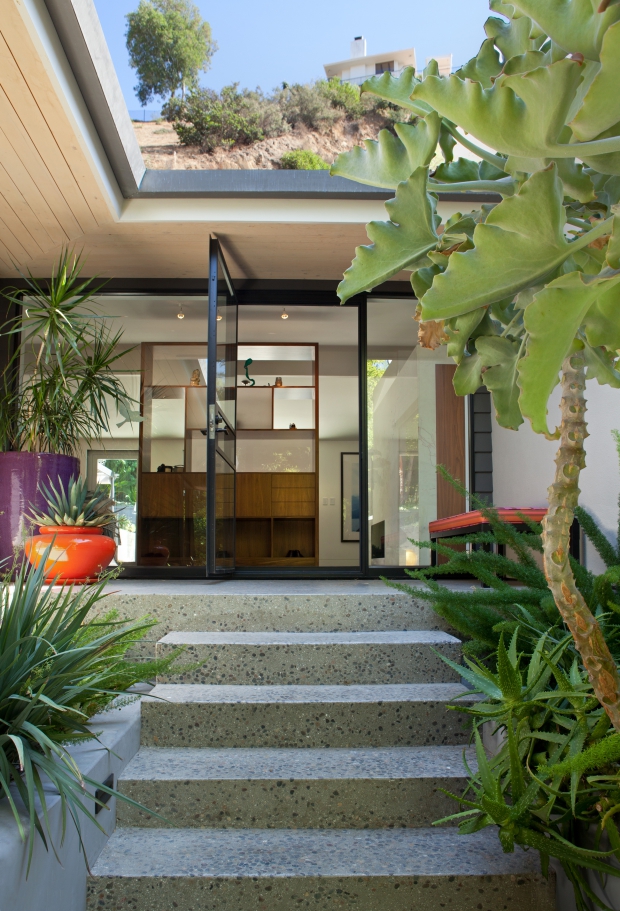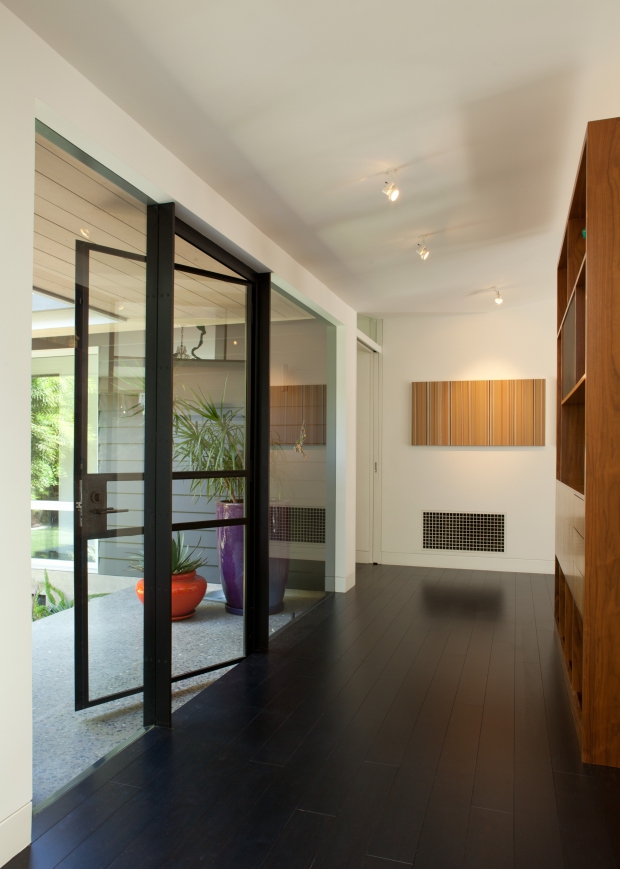 View of the entry area, where the original front wall of the house was opened up with large sheets of glass, and a custom steel/glass door inserted in the middle of the wall. Custom freestanding walnut casework helps define this entry area.
View towards the new kitchen, with counter seating at the peninsula.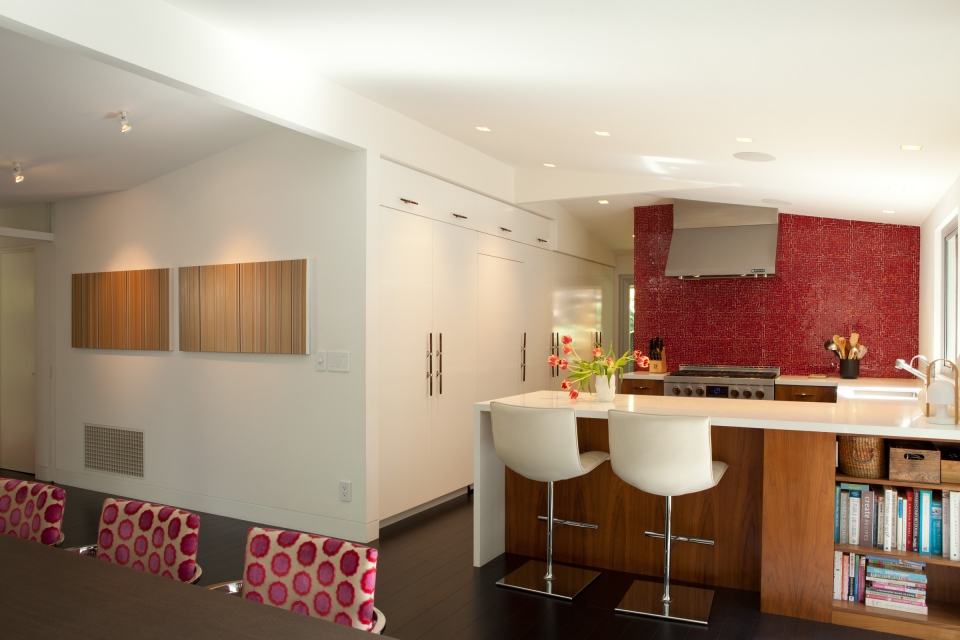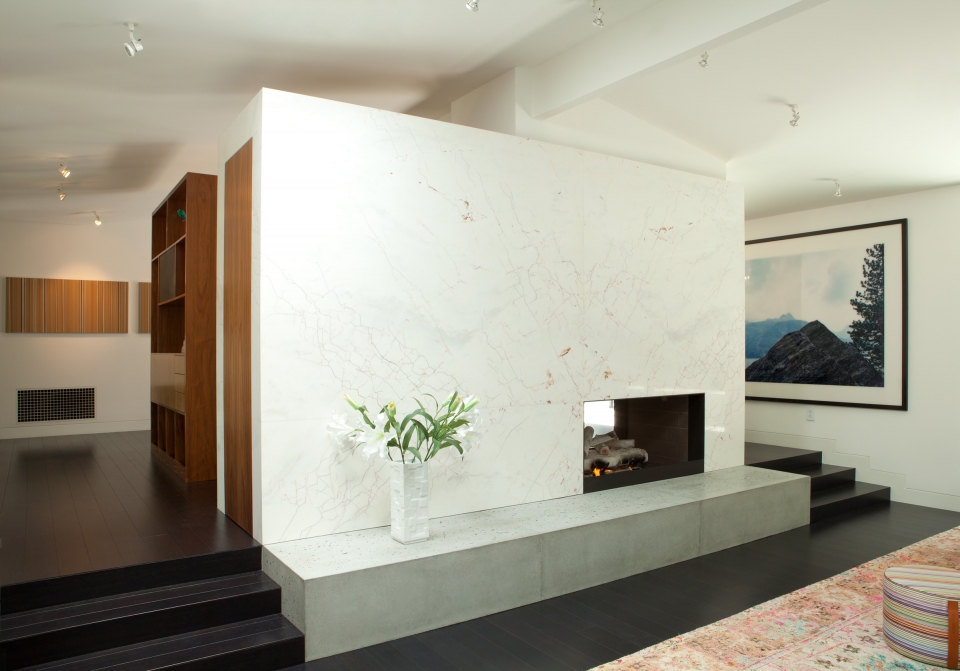 A new central hearth
A new double sided fire-place divides the living and dining areas, and negotiates the drop in level between those two rooms. The stone is Italian dolomite, the hearth is solid poured concrete and the firebox is framed in blackened steel.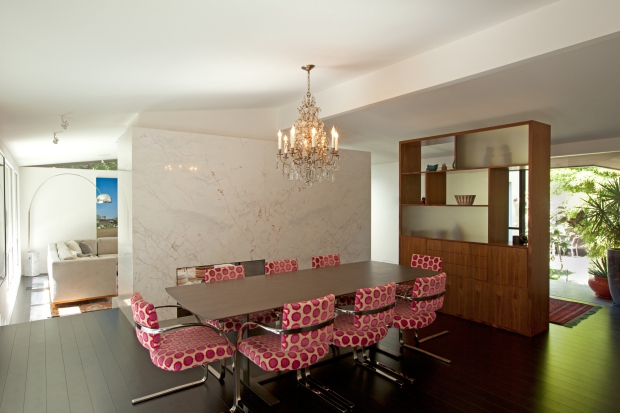 The new dining area framed by the dolomite-class fireplace, and a walnut and glass display case that creates the entry area, yet still allows light into the house.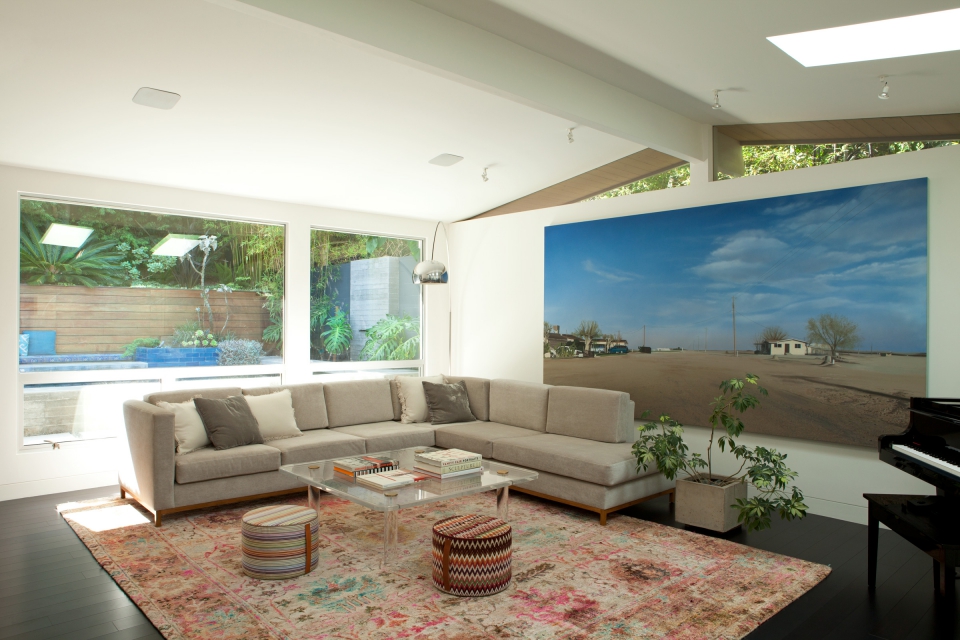 Living room, with large windows looking out to the rear gardens and pool.
The children's bathroom had no direct window to the outside. So the shower/bath was conceived as a massive inhabitable lightwell, with two colors of mosaic glass tile for the outside and inside.  It was designed with the client's eight year old daughter, and the metaphor of a geode was embraced.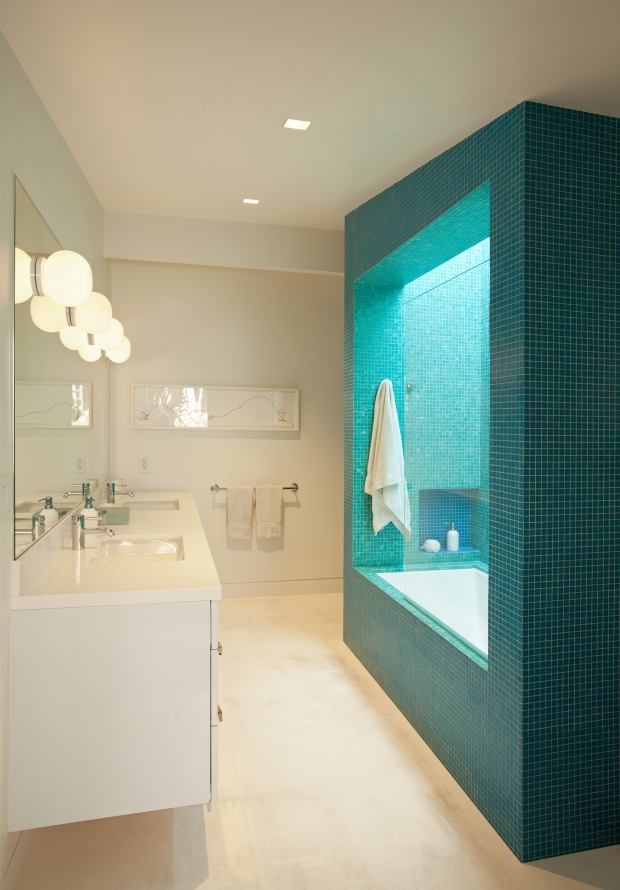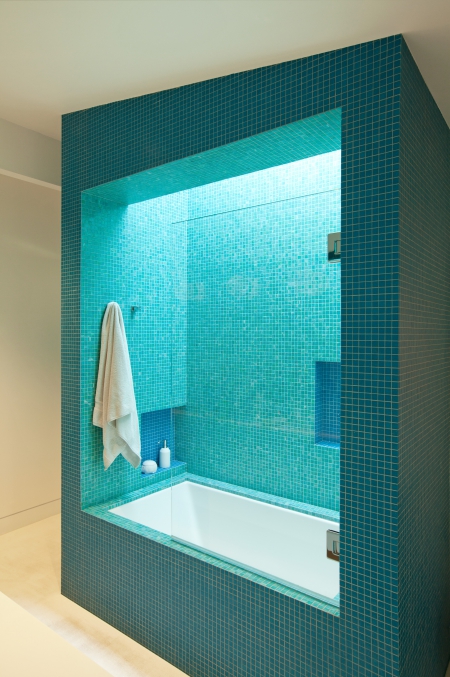 View of the shower/tub with skylight above. The glass mosaic tiles glow in the sunlight, adding color and vibrancy to the room.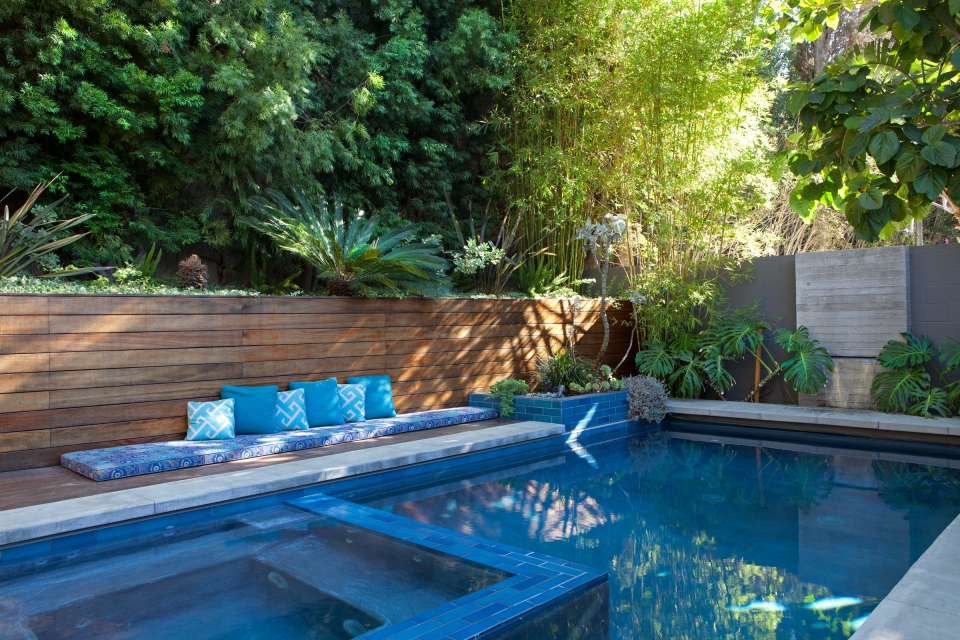 A view of the rear gardens and pool, by Elysian Landscapes (Judy Kameon)
A custom window we designed using automotive hydraulic pistons (used for car trunk doors) that keep the awning window open, and aid in it's closing. The window, counter and eating area help connect the kitchen with the outdoor lounge space.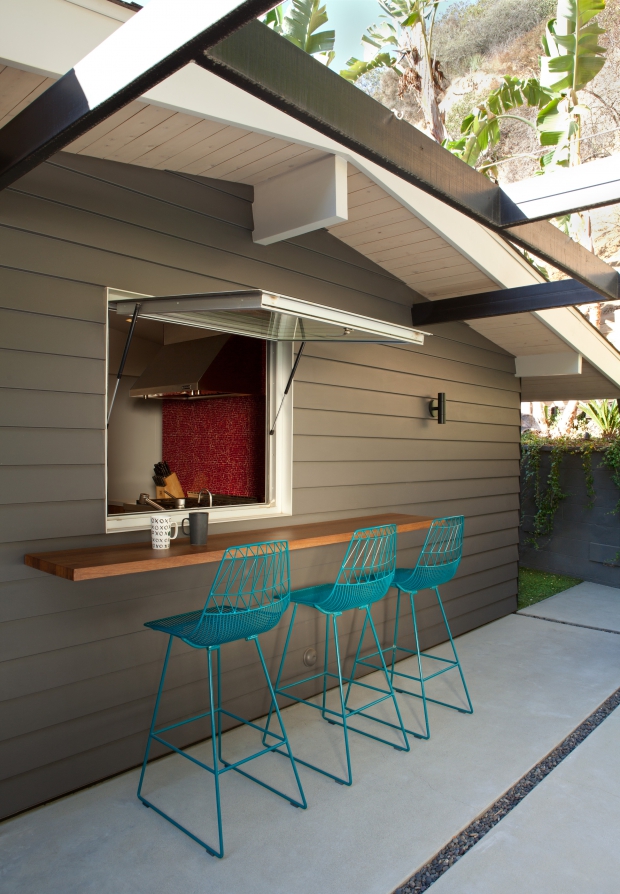 Thank You
Your contact infomation has been sent
we will be in touch shortly
×