Thank You
Your contact infomation has been sent
we will be in touch shortly
×
Los Feliz Residence
A mid-century modern renovation in the Hollywood Hills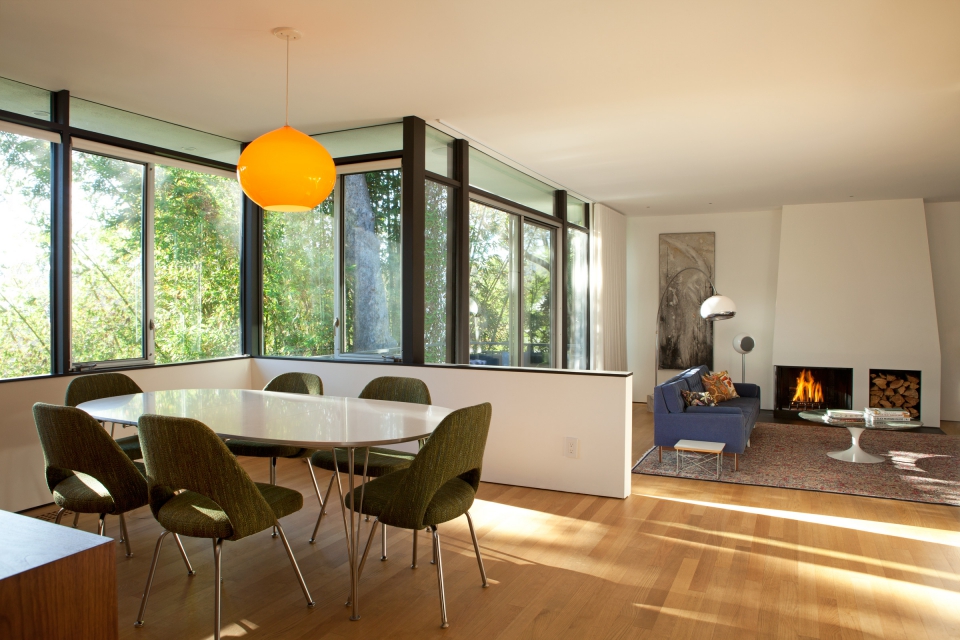 Nestled in the canyon
This mid-century modern house was restored and renovated by Dutton Architects. Our clients loved their home and property, but wanted a better flow for their family life, both within the house itself as well as a better indoor-outdoor connection to the front garden and back yard pool. The house has amazing canyon views, and is filled with lovely afternoon light. The clients have an amazing design sensibility and collect beautiful objects, furniture, books, art, and vinyl LP's. (all photos by Undine Prohl)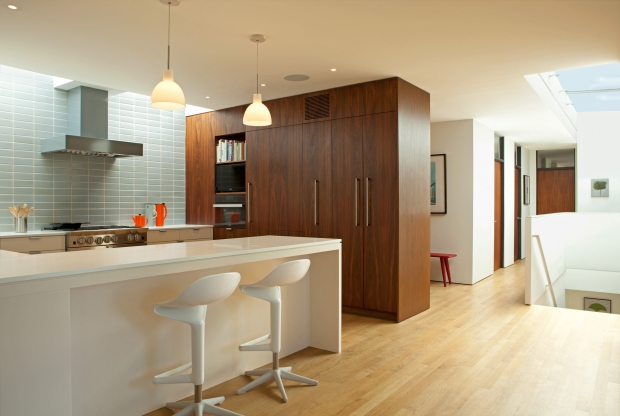 Reconfiguring the house allowed us to add some logic and coherence to the rooms and flow. There is now a central hall that connects the entry area to the kitchen, living room, and bedrooms. In this view, the full-height custom walnut casework separates the kitchen from the entry area.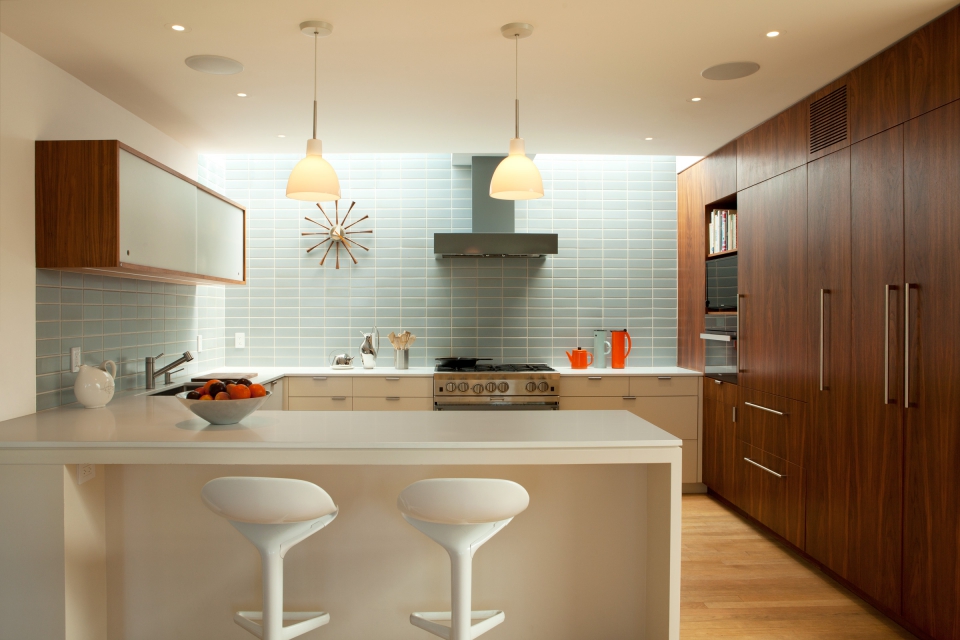 A kitchen of light
The new kitchen is modern and utilitarian, modest yet open and spacious. The U-shaped counters face the views on one side, and bookended by a skylit wall of hand-cut blue ceramic tile. The long skylight over the back counter helps balance the light from the windows opposite, and gives a warm wash of light over the work space all day long.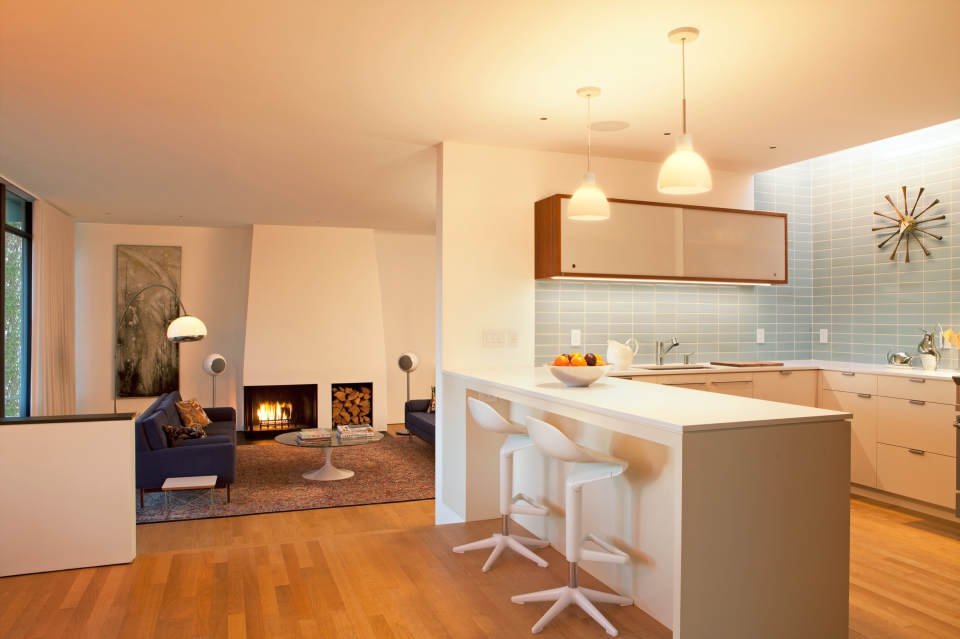 The living room is connected to the rest of the house through the central hall, with views of the fireplace. The kitchen acts as the central area for family life.
A view of the entry from inside. A mid-century palette and simple modern graphic of warm walnut, textured glass, painted door, and stained wood door jambs.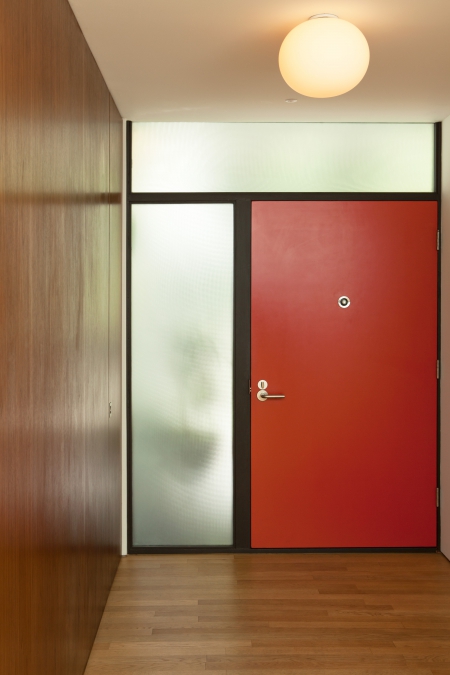 A view of the entry from outside. One enters the house from under a pergola of wisteria, and is immediately within a house of light. A large skylight over the wall at the end of the entry serves as both an art wall, and a way of welcoming you with light in a formerly dark area.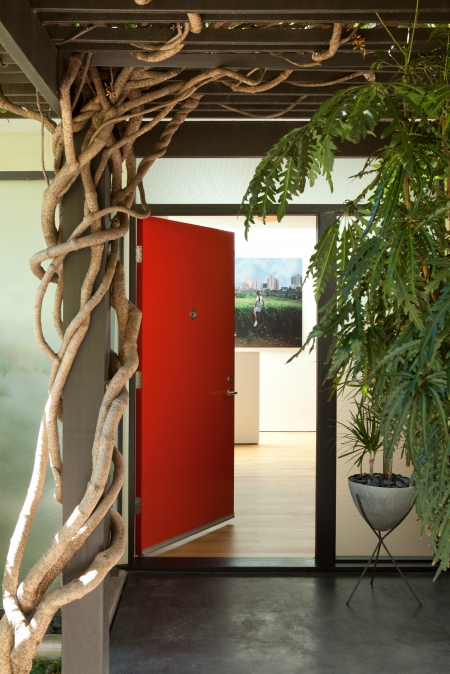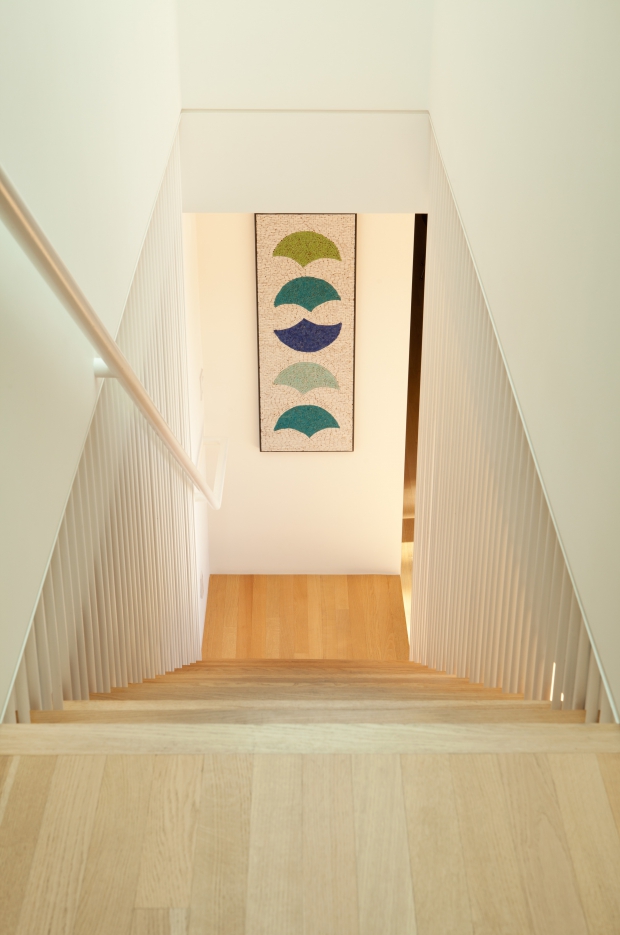 The flow of the staircase
A new staircase connects the upstairs to what was formerly more of a recreational basement/ lower floor.  The stair is positioned to best allow our clients to walk from the kitchen/dining area downstairs, where new sliding glass doors lead to the pool area.
The staircase appears to cascade down to the lower floor and be suspended from narrow white steel rods. The treads are solid white oak, stained to match the floor, and are thick enough to allow there to be no risers. A 14′ long skylight over the stair allows light to now come down into the lower floor.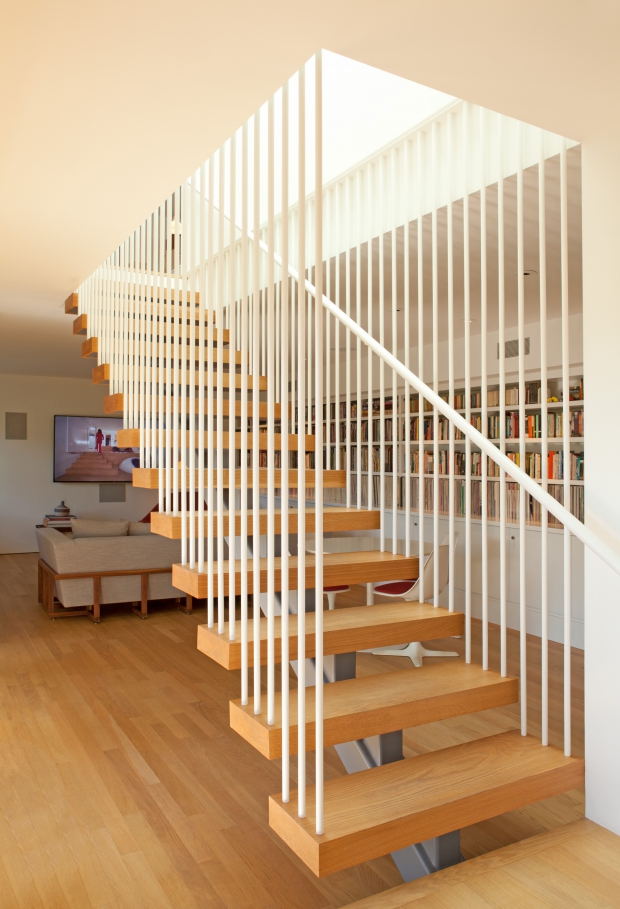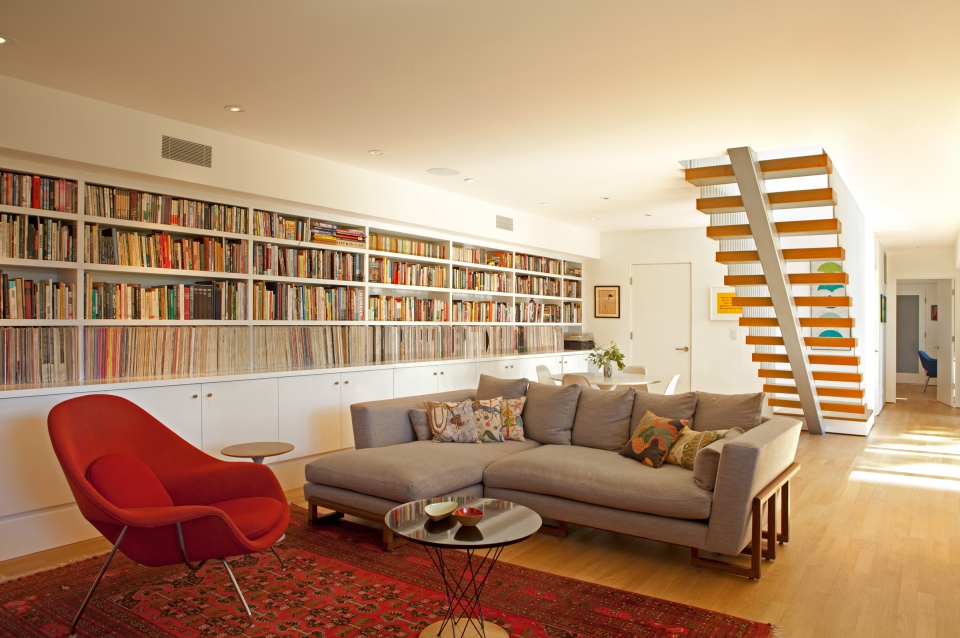 The lower floor has been turned into a den, where formerly it had been more divided up. A long bookcase of vinyl records and books frames the room.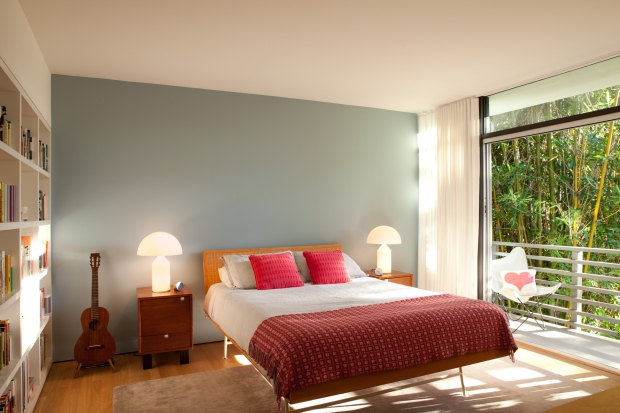 The master bedroom, with a modern Case Study bed and vintage Atollo table lamps.
Bathing in a garden
The master bathroom opens up to a private garden and ample light. A 'wet-zone' is denoted by mosaic marble.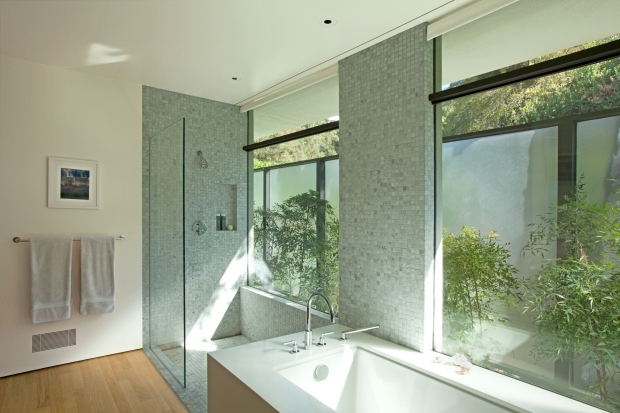 The tub sits sits in the 'wet zone' of marble, next to the garden. Open the window and you're sitting almost outside!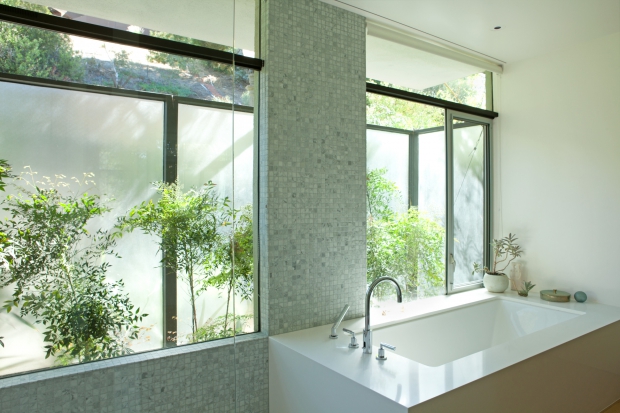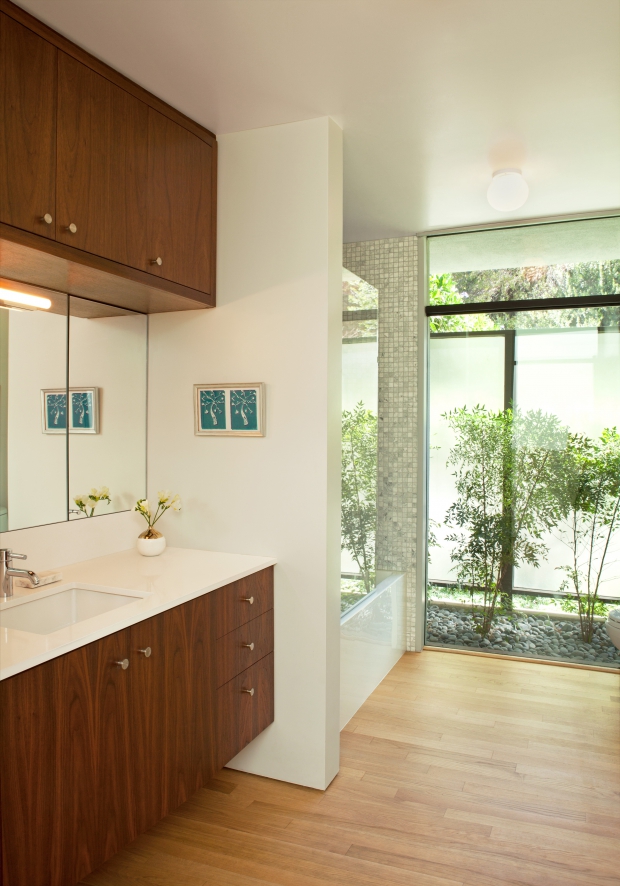 The children's bathroom with it's full-height window to the garden. The shower/tub is defined by mosaic marble walls, and the vanity is a floating walnut cabinet with a white Caesarstone top.
Thank You
Your contact infomation has been sent
we will be in touch shortly
×