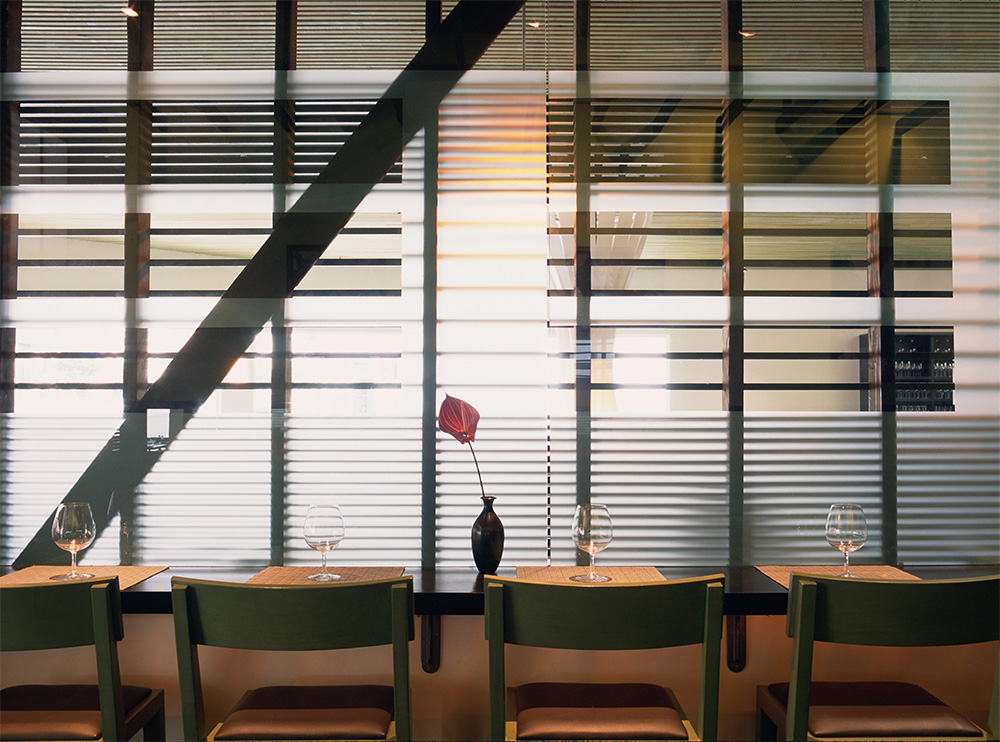 "It's rare that a new restaurant — especially a smart, urbane, sophisticated, upscale new restaurant — is actually designed to be calm, restful, and a possible refuge from L.A.'s traffic and noise and chronic, insoluble busyness. But without any sacrifice of chic or style, Opaline, on Beverly Boulevard, is exactly that — a place where people can actually have a conversation or, more radical, hear themselves think."
L.A. Weekly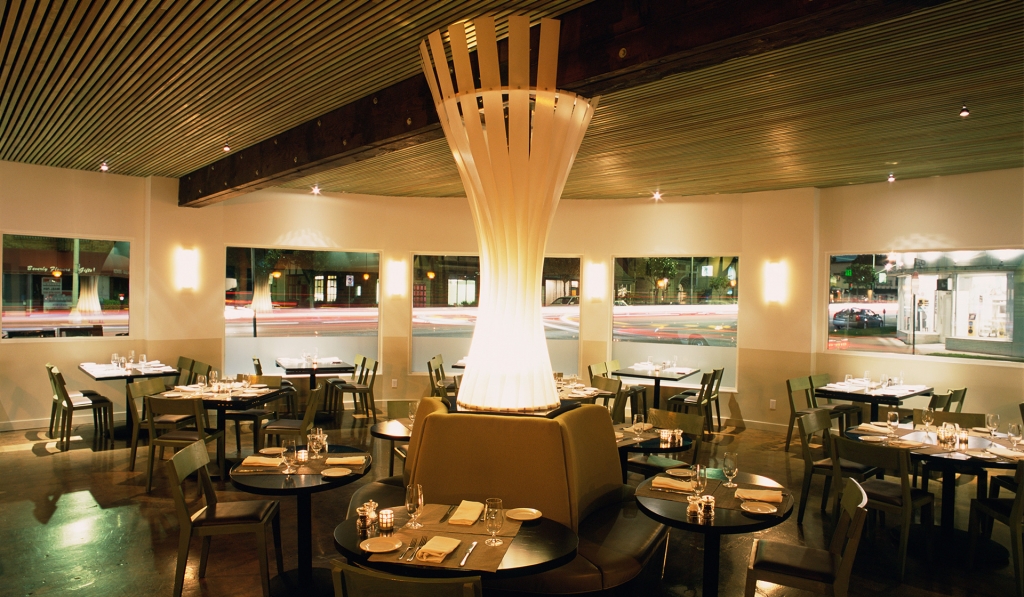 Main dining room: open to the city
The main dining room was stripped down to a large room that revolved around a central light sculpture. Large windows opened to views of the city. Custom wall sconces were simply made by recessing a light bulb and floating a translucent panel in front. The floors were polished concrete. The ceilings are made from stained wood slats, obscuring the HVAC systems above. Small low-voltage lights on stainless steel stems protrude from the ceiling to illuminate the tables.
A custom light fixture and wrap around booth take what was an obstacle – a column that couldn't be removed for budget reasons- and turned it into a feature for the restaurant.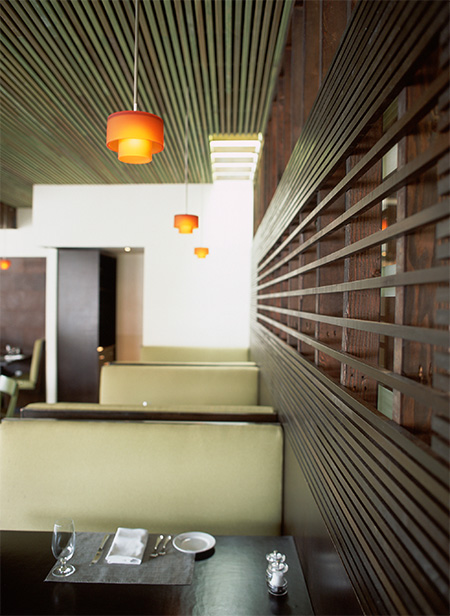 Light: balance of natural and artificial
The introduction of skylights was part of a necessary and surgical tactic to balance light throughout the previously dark space. Above are some of the custom-designed booths as well as the screen between the main dining room and the private dining room.
Custom wood slat ceilings
Stained wood slats mask the HVAC and electrical systems. The slatted ceiling also acts as a natural acoustic dampener. Glass pendants from Prandina hang over the booths.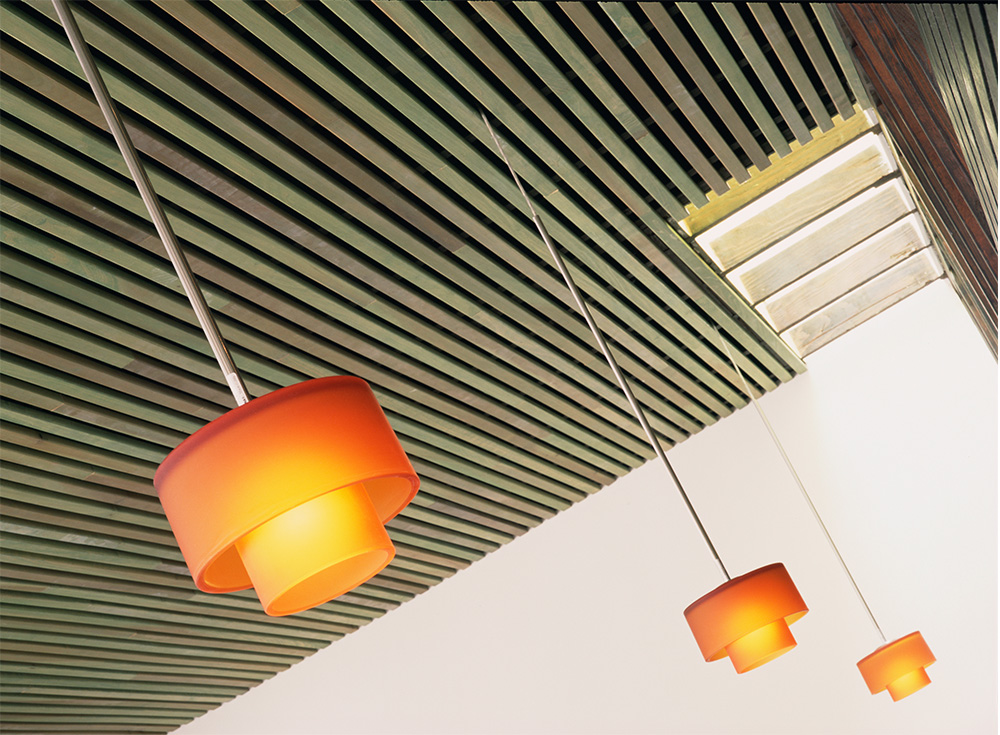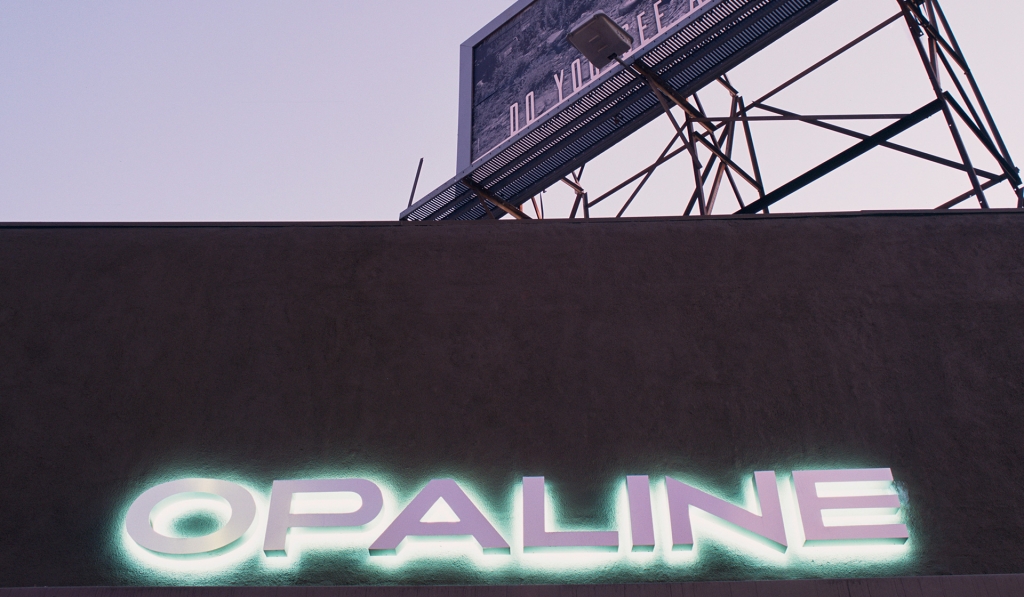 Urban signage
The renovation of the exterior, besides new large windows and a continuous awning, contained backlit aluminum channel letters against a dark brow stucco building. The billboard infrastructure lends it's own form of delicacy and design to the urban moment.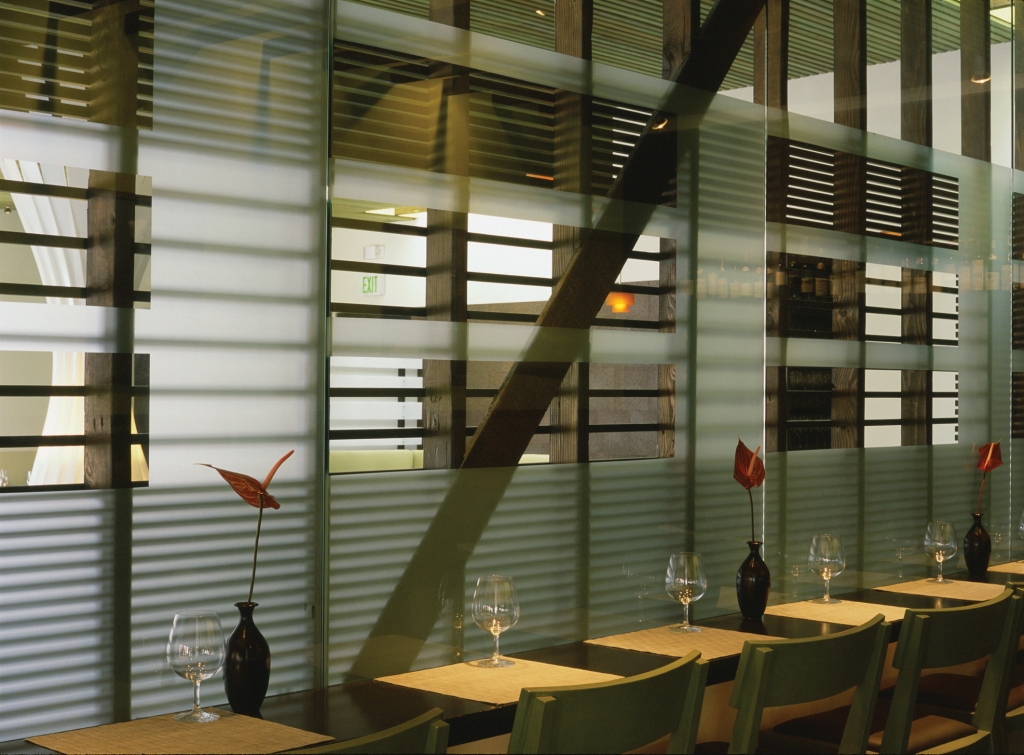 An abstract and luminous screen divides the spaces
A screen wall divides the wine-tasting lounge from the main dining room.  The screen is comprised of stained wood framing (from the previous wall dividing the two rooms), and layers of etched and transparent glass.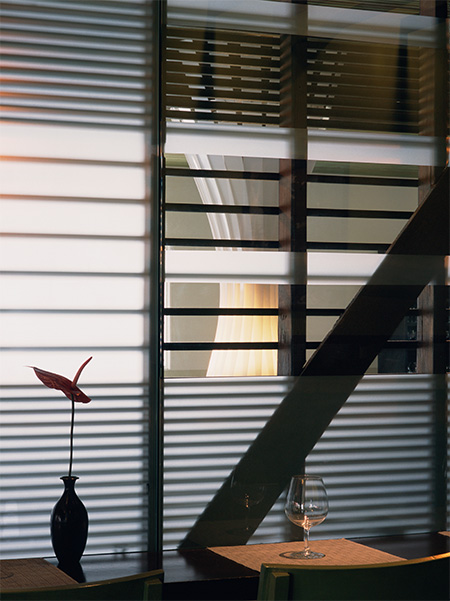 View through the screen wall toward the dining room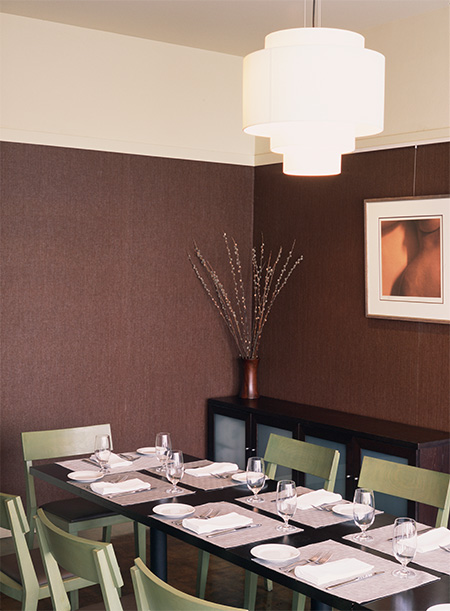 The private dining room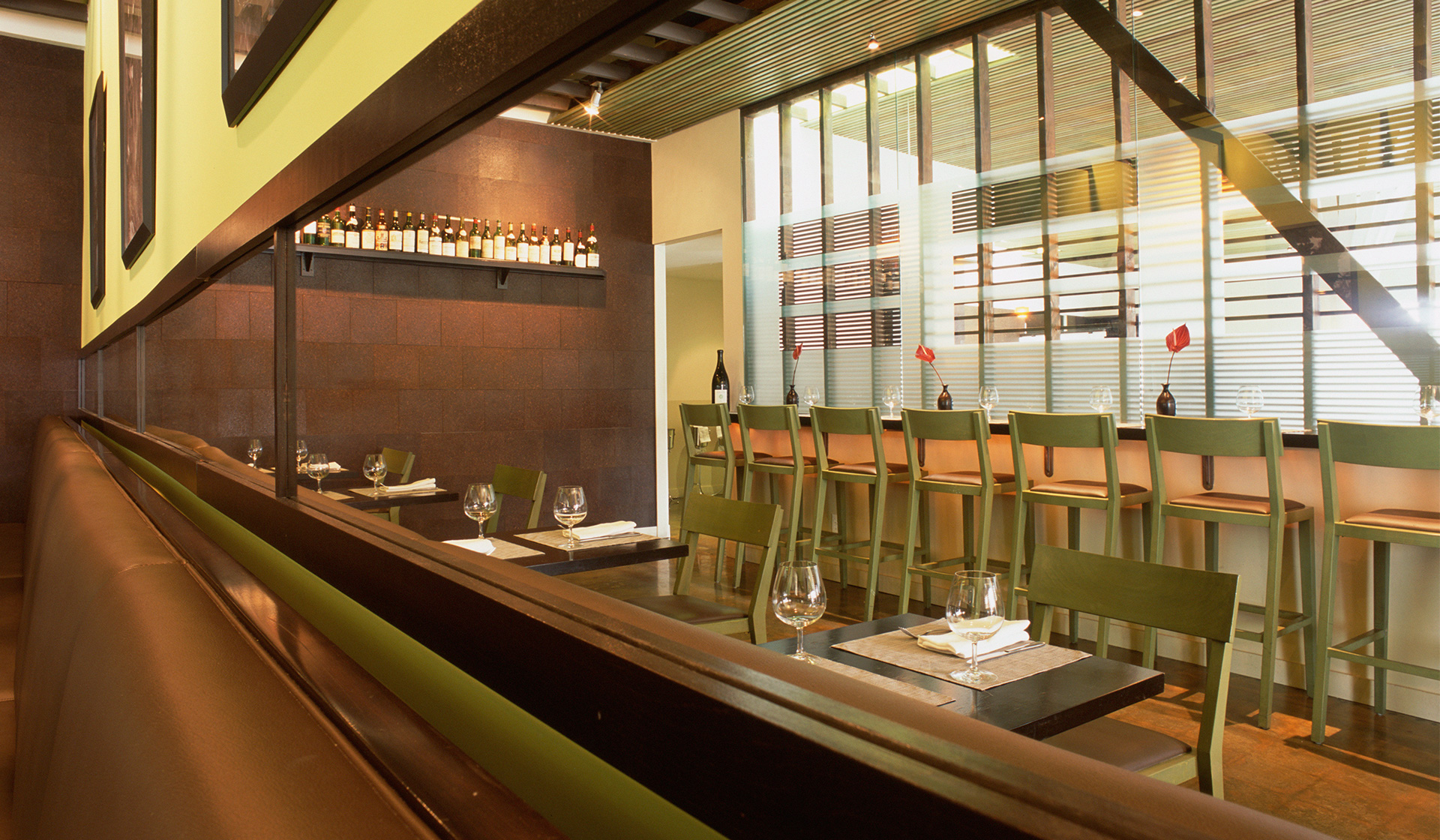 A view of the wine-tasting lounge. A bar height counter runs the length of the glass screen wall.  Cork walls give texture to the space and help with acoustics.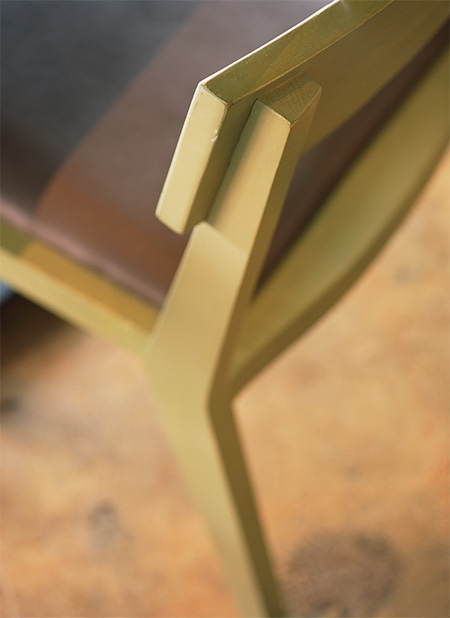 Custom designed chairs
by John Dutton are based on a simple wooden 'French meets Scandinavian' design. They are meant to be utilitarian but elegant, simple lines with flair. This was in the spirit of the cuisine and chef's emphasis on slightly modern twists to simple classics, all with honest ingredients.