A guest house and pool area/pavilion are sculpted into the hillside of this Beverly Hills house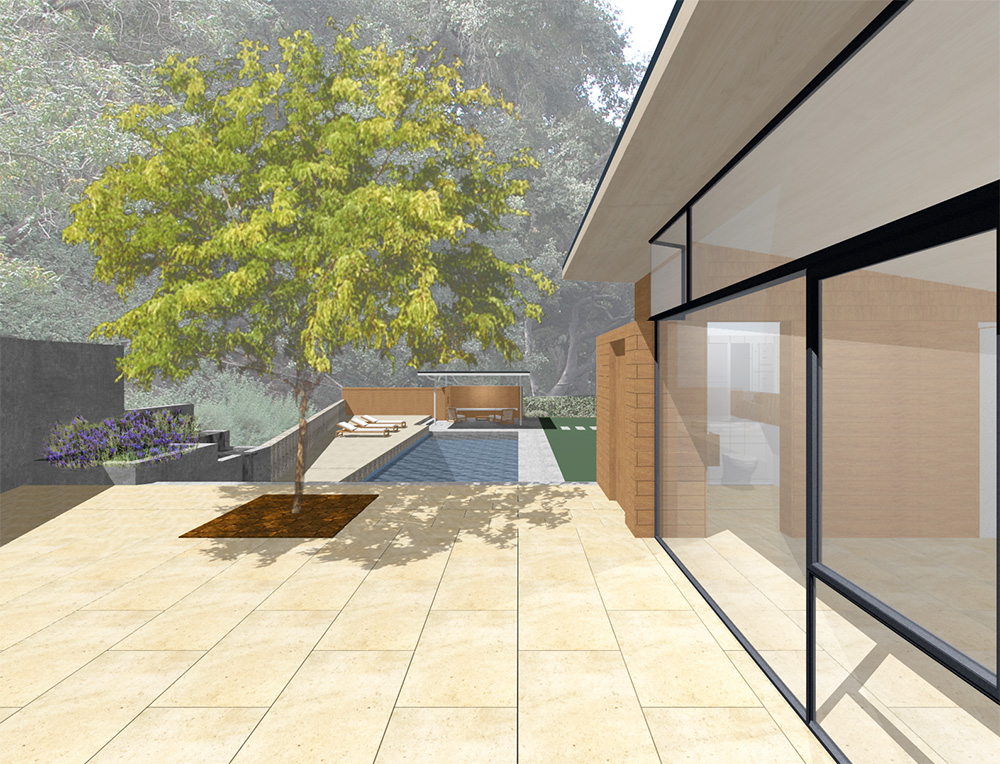 A modern poolside pavilion
Dutton Architects has designed a new recreational and guest domain in this Beverly Hills property. On one side of the pool is a new guest house with a subterranean music studio. On the other side is a covered pool area, more public than the guest courtyard.
A new private courtyard
Landscaped steps of Corsican Mint rise from the pool deck up to the guest house  courtyard, paved in limestone. The guest house has a solid wood volume (the bathroom, entry and storage) and an open room for for the guest quarters.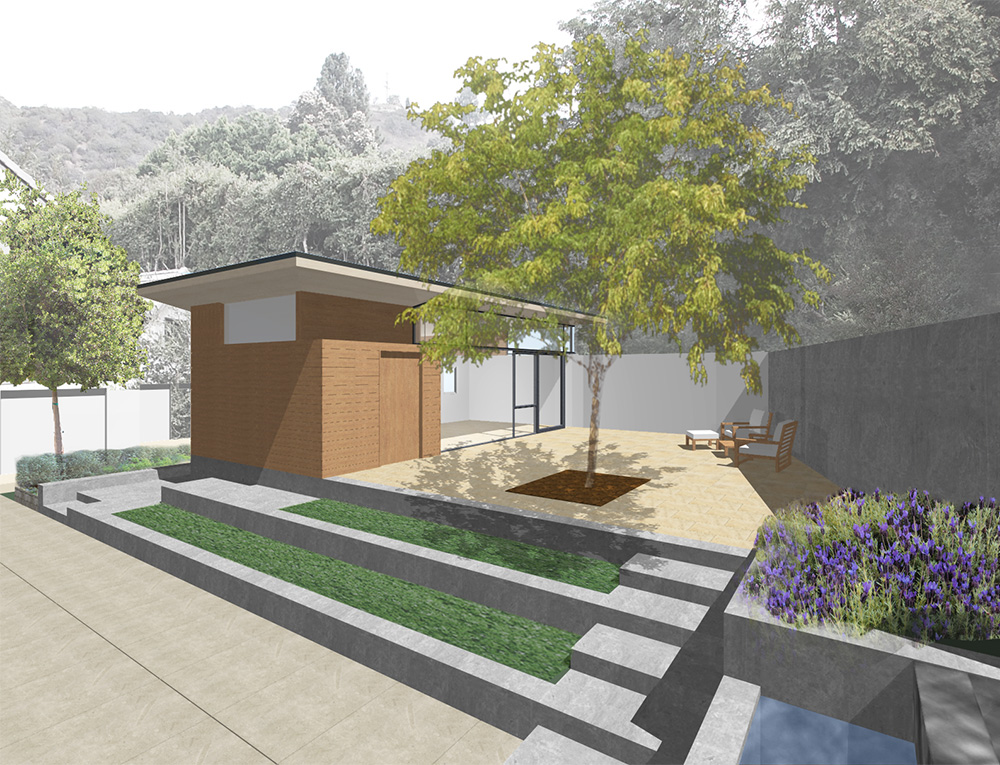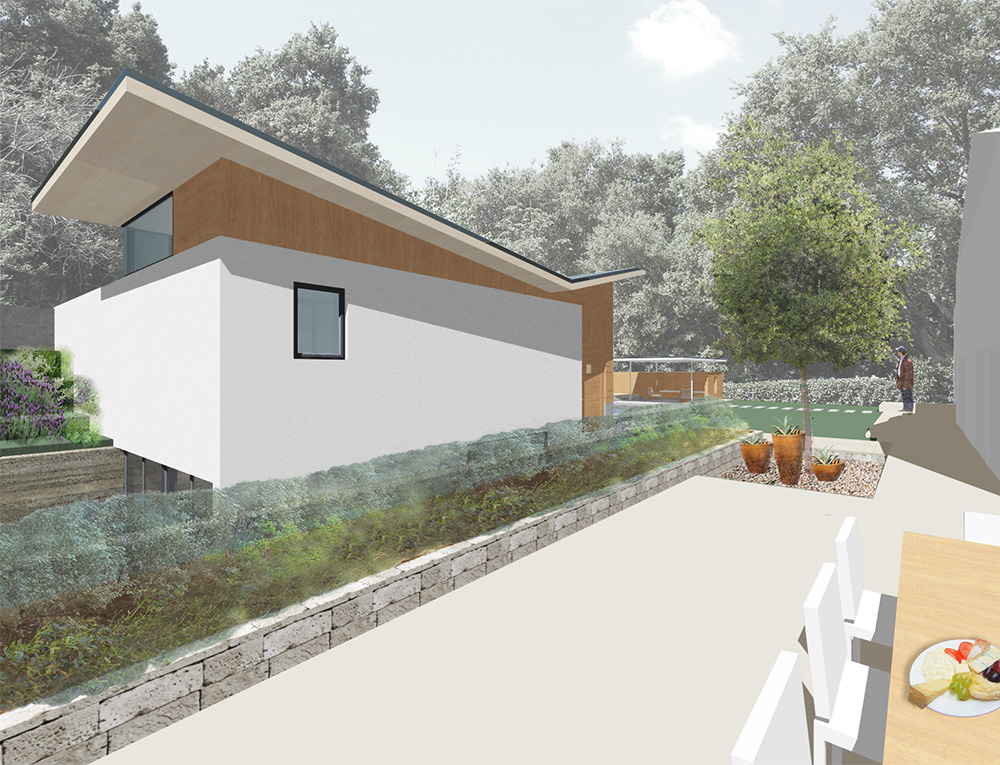 A dynamic, floating roof
View from the rear dining terrace of the house. The butterfly roof on this side is at it's lowest, for privacy as well as minimizing the presence near the main house. But the roof soars up on the other side, toward the deep views of the hillside landscape. The main wall of the house is concrete (white)  with an infill wall of wood between the concrete wall and the sculpted roof.
The wood ceiling opens up to the view and light
View of the interior of the guest house. The main entry is on the right, the entry to the bathroom is open at the back, and the large steel window and glass wall connects to the courtyard.
The limestone pavers connect the interior to the exterior. Two kinds of wood differentiate the walls from the roof, which floats up toward the private patio. A light ceiling of bleached white oak floats over the heavier douglas fir walls.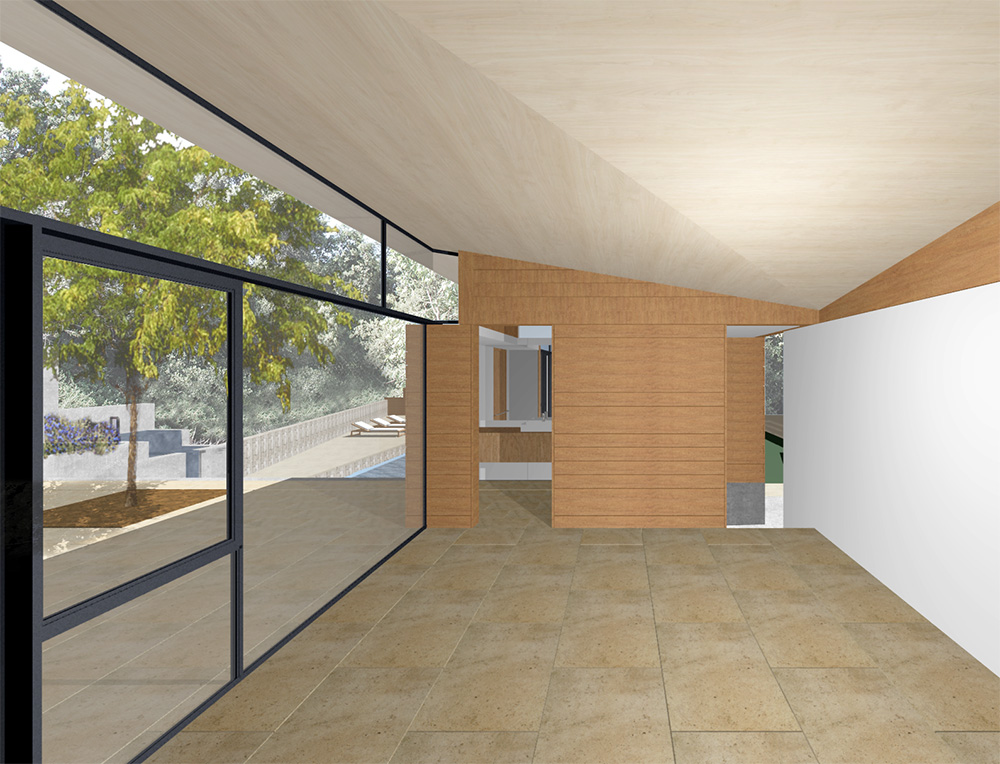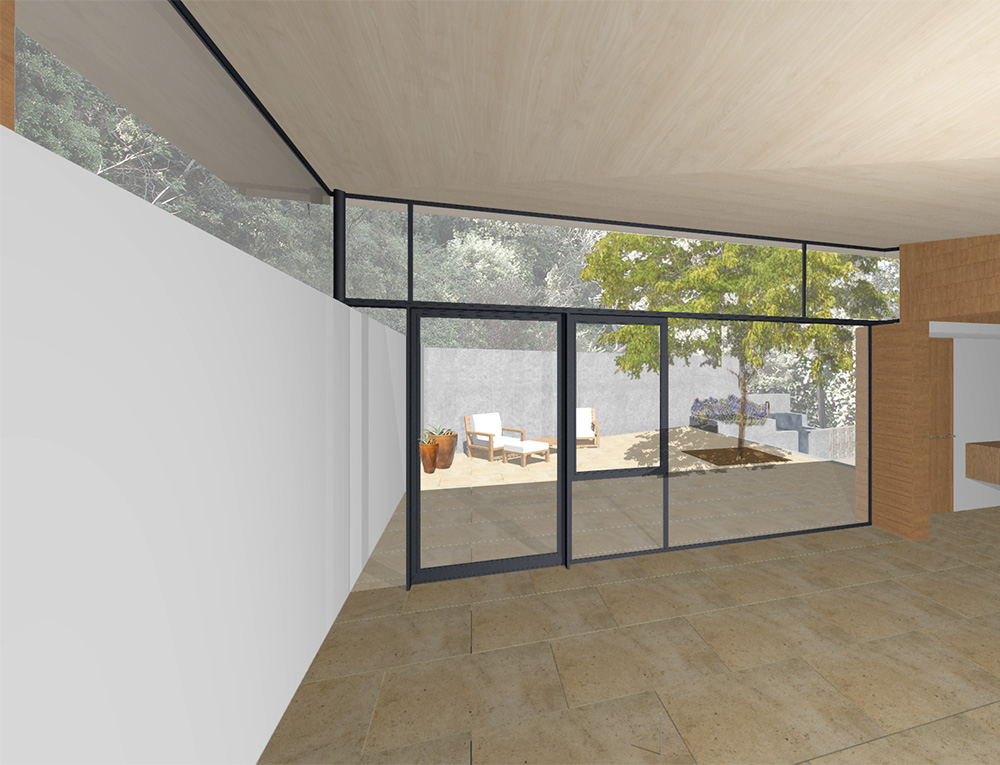 Integrating the inside and outside
View of the connection between inside and outside space. The retaining wall clearly turns toward the guest house, forming the side wall of the patio then becoming the wall of the house itself. Glass above this wall enhances the effect of the floating roof plane. The window wall is made of thin steel sashes.
Retaining Wall = Garden Wall = House Wall
Under the pool canopy, with cocktails
View from the covered pool sitting area toward the guest house.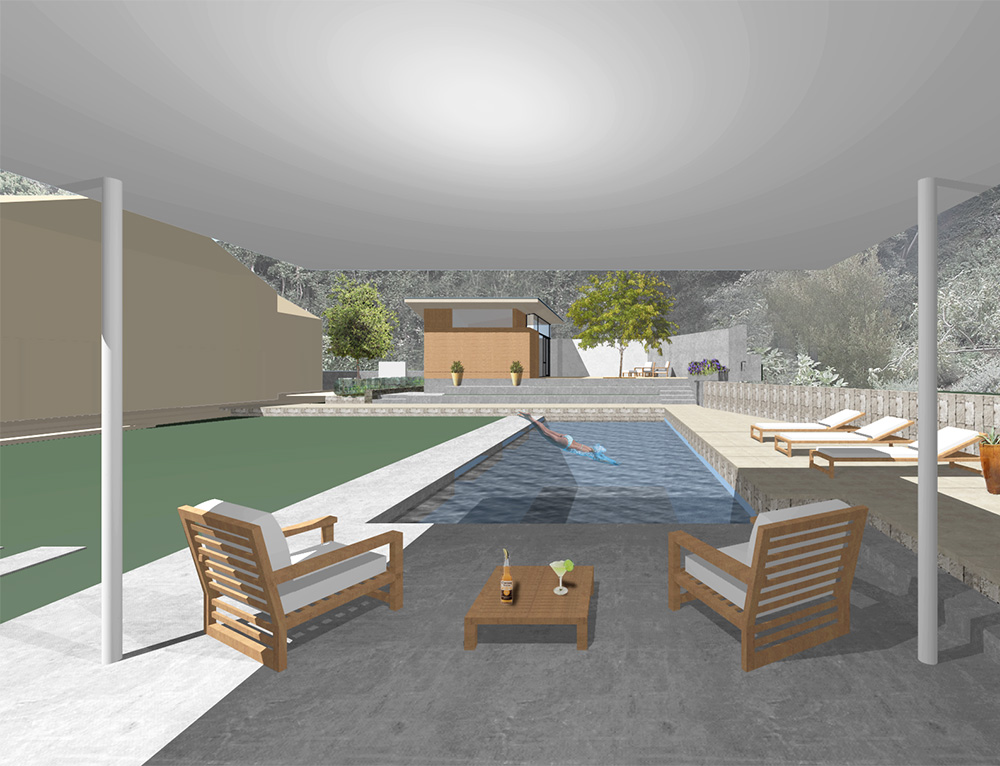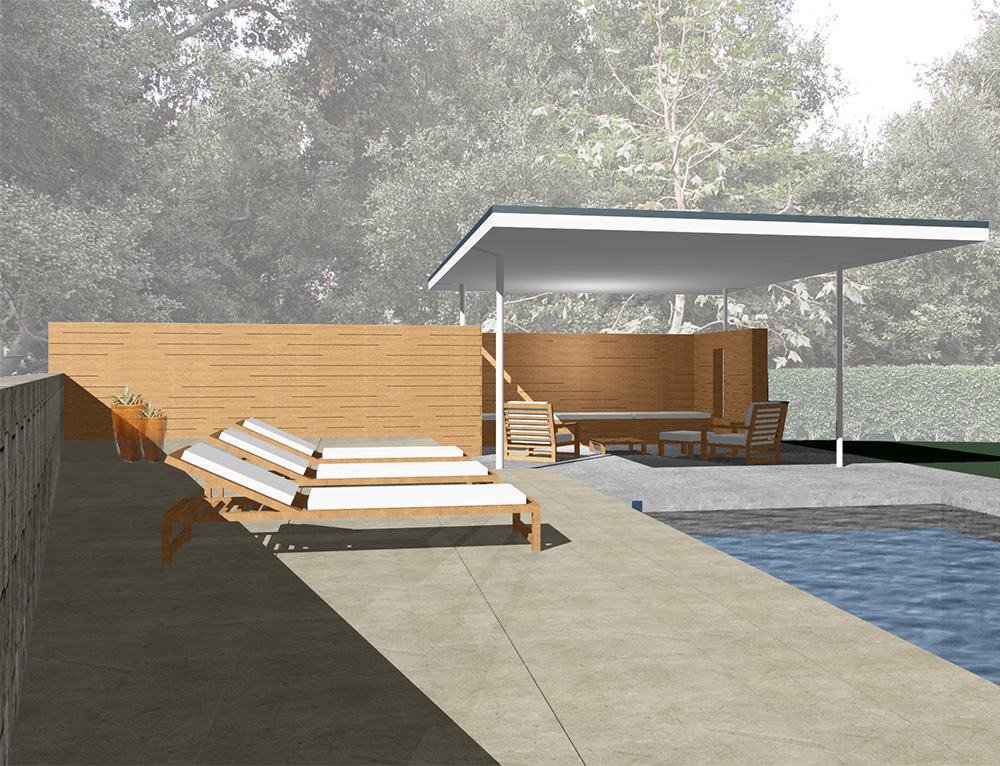 Lounging by the pool in style
View of the new modern pool canopy. It is meant to evoke the classic Beverly Hills modernism of the 60's in the area. The wood slat wall also hides the pool equipment. The roof floats above it in a similar way as the guest house.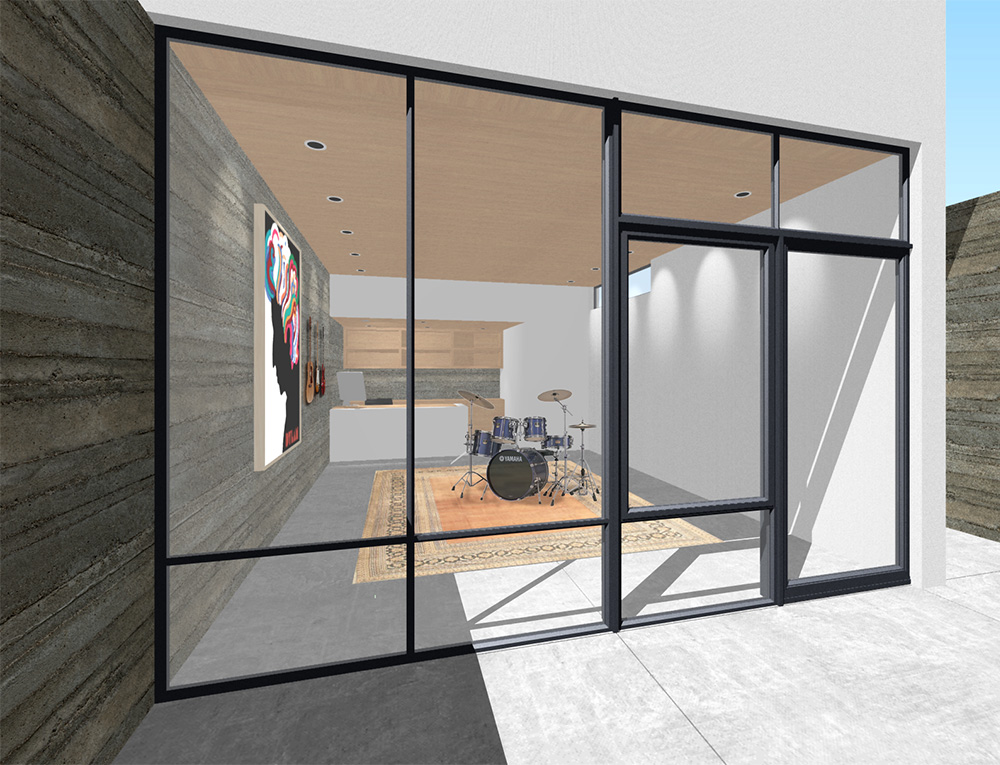 Rock 'n roll man-cave
View of the music studio basement, under the guest quarters. The board-formed concrete wall gives texture and interest to the room, and helps connect the interior to the small exterior space. The same thin steel-sash windows are used here as above in the guest quarters.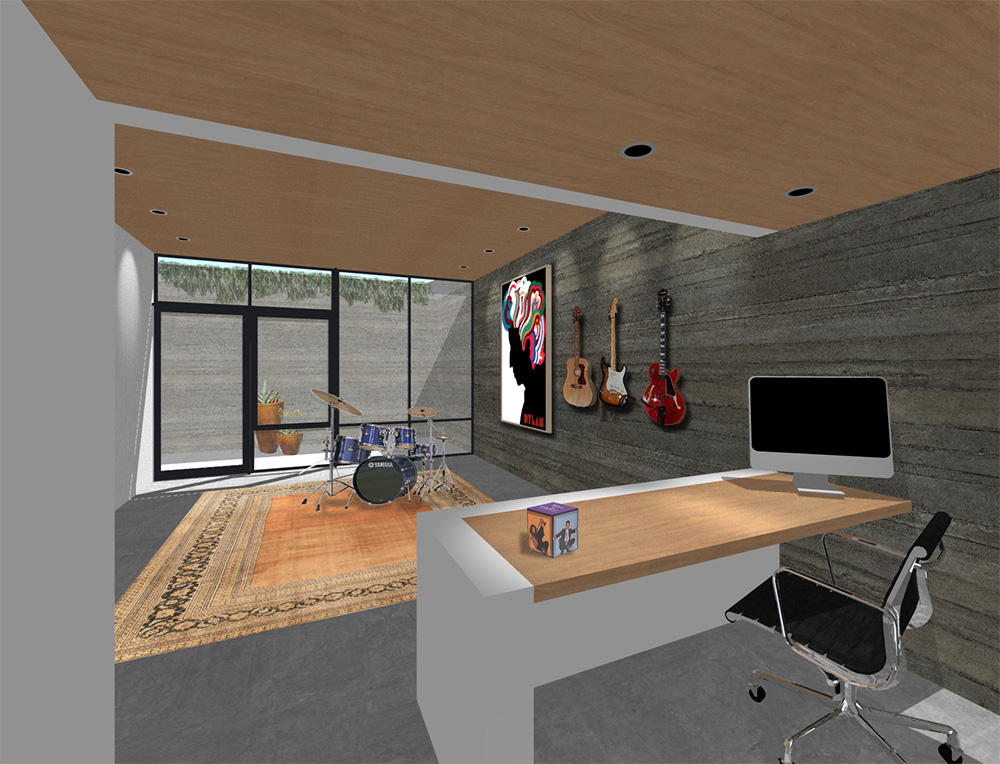 View from within the music studio looking toward the entrance, with it's small patio and light-well to help the subterranean space feel less like a basement. Dutton Architects designed the retaining wall as a board-formed concrete wall that becomes the interior wall of the music studio.